~~ Book 1895100810 ~~
Musical Japan by Miss Dulcie Harmony
by Akiyama Aisaburo


Condition. The book is in Good condition. The last three folded page have large heavy water stained areas. The front and back cover are larger than the internal pages resulting in soft edges. The binding is solid. The spine covering is complete and none of the pages or cut or torn. No writing or marking. There is a water stained area at the bottom right of the front cover. The edges of many of the pages are wrinkled and slightly irregular in shape. As is often the case with these books, the crepe paper is quite limp.
Limp Crepe Paper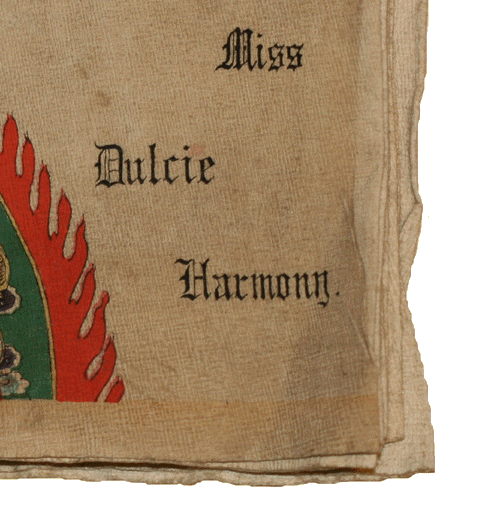 Click
here
for larger pic.

Akiyama Aisaburo (Author and Publisher)
Chikanobu Hashimoto (Illustrator):
Musical Japan by Miss Dulcie Harmony, Tokio, published by Akiyama Aisaburo, distributed by Kelly & Walsh, Meiji 28 (1895), oblong 8vo (9 1/2 x 7 in - 24 x 16.2 cm), red silk stab ties, spine covered, 9 folded pages, 18 pages total, including the covers. The cover carries the name of "Chikanobu Yoshu" in Japanese which is the pseudonym for the artist Chikanobu Hashimoto. The text discusses seven musical instruments (the Koto, the Samisen, the Taiko, the Tsusumi, the Fuge and the Gekkin & Kokgu). Women are depicted playing these instruments in an illustration on the page facing the text page. The Gekkin & Kokgu are discussed together and shown in a single illustration.
All Pages
Colophon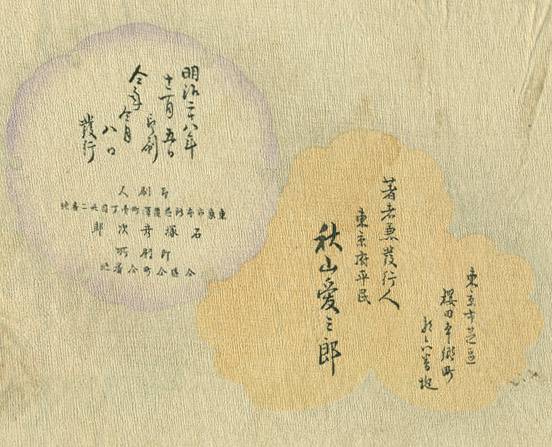 Artist Signature/Seal at Bottom Left, Front Cover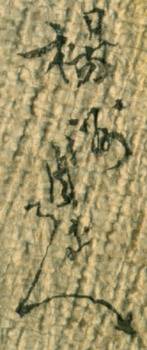 "Chikanobu Yoshu"
(pseudonym for the artist Chikanobu Hashimoto)