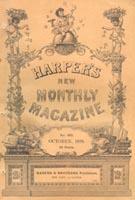 To purchase this book on-line, click here.
Griffis, William Elliot:
Our Navy in Asiatic Waters, an article published in Harper's New Monthly Magazine, October, 1898, Volume No. 581 at pages 738-760. A wonderful review of US Naval activities in the Asiatic area (focus on Japan) from the early 1800s through the early 1880s. Griffis discusses the key figures (Glynn, Preble, Matthew C. Perry, Harris, Foote, Tattnall, Japanese Priemer Ii, McDougal, Pearson, Mackenzie, the Last Tycoon of Japan, Blake and Rogers) and the US naval engagements and political events (domestic and internatinal) that swirled around the American efforts to gain access and power in the Asian area. The bulk of the article is on Japan. While mentioned, the Perry Expedition is merely noted and not discussed in any detail. The article is well illustrated (26 text illustrations) with drawings of the key people and events.
Chapters.

 I.    Early Episodes in China.
 II.   Early Visits to Japan.
 III.  The Advent of the American
         Power in the Pacific.
 IV.   Glynn, Perry, and Harris.
 V.    Foote and the "Portsmouth."
 VI.   "Blood is Thicker than Water."
 VII.  Troubles in Japan.
 VIII. McDougal and the "Wyoming."
 IX.   Pearson and the "Ta Kiang."
 X.    The Formosa Campaign.
 XI.   The Civil War in Japan.
 XII.  Korea.
 XIII. Manila.


Illustrations (26 in total).

The "Wyoming" dasing into the Japanese Fleet.


Commodore Matthew C. Perry, A Japanese portrait, with a poem by Yashida Shoin.


Commander James Glynn, of the United States Brig "Preble."

Townsend Harris, United States Counsel-General to Japan

Rear Admiral David Stockton McDougal

The Precursor to Manila, the "Wyoming" blowing up the "Lancefiled" -- [after a painting by a Chinese Artist.]

The Path of the "Wyoming" at Shimonoseki.

The "Wyoming" at Annapolis.

Lieutenant Frederick Pearson.

Batteries of Shimonoseki

The Last Tycoon of Japan

Lieutenant Commander Alexander Slidell Mackenzie

Neglected Tombs of American Sailors at Shimoda, Japan

The Tombs as Restored by an American Missionary


The Monument to the Men of the "Oneida," Yokohama

The "Monocay." The most effective of the ships in shelling the Korean forts.

Commodore Homer C. Blake

Commodore John Rogers

Officers and Crew of the United States Corvette "Alaska."

Korean Officers on the Flag-ship

Seoul, the Capital of Korea in 1890, Showing the American Methodist college and French cathedral.

Chemulpo, the Terminus of the Raiway and the Seaport of Seoul.

Inside the large Korean Fort

Our Sailors After the Battle

The Flag of the Korean Commander, the Flag of the Tiger-hunters, A Battalion Flag, and a Korean Breach-Loading Cannon, Captured by the Americans.