Ballou's Pictorial Drawing-Room Companion, Volume IX.
This is the first bound semi-annual volume of this publication. Ballou's Pictorial was the successor to Gleason's Pictorial and continued with the numbering from that publication. The book is large 4to in size (11 5/8 x 15 3/4 in). The covers are blindstamped cloth with gilt lettering and decoration on the front cover. This volume covers all issues from July through December of 1855. It contains a total of 26 issues (whole numbers 209-234) which cover 416 pages.




Illustrated Title Page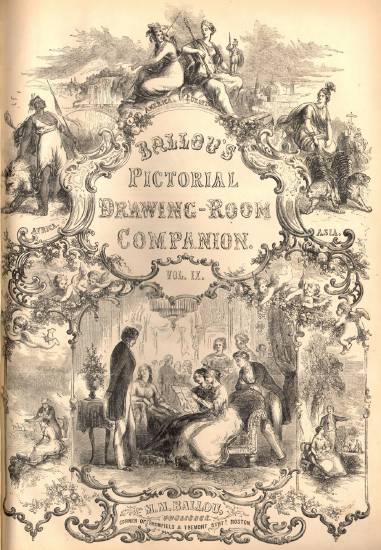 Issues, key articles and illustrations, comments regarding condition.
July 7, 1855 (Whole No. 209). Washington Taking Command at Cambridge. Revolutionary Relics. Washinton's Masonic Chair--Insigna of Office. The Declaration of Independence Reported to Congress. Civic Heros of the American Revolution (2 pages, 22 cameo illustrations of famous men). General George P. Morris. Eruption of Mount Vesuvius. Defeat of General Braddock in the French and Indian War in Virginia in 1755 (full page illustration, back page).
July 14, 1855 (Whole No. 210). Launch of the Steam Frigate Merrimac from the Navy Yard, Charlestown. Departure from Suez, Once the Residence of Napoleon Bonaparte. Majorca, Ivica, Minorca, Port Mahon. Lake Dunmore House at Salbury, Vermont. Railroad Bridge over Rock River. Railroad Bridge at LaSalle, Illinois. Bayonet Drill of the Independent Cadets under Command of Lieutenant Colonel Thomas C. Amory on Boston Common, May 30 (full page illustration).
July 21, 1855 (Whole No. 211). View of Nahant Hotel. Nathaniel Hawthorne. Various scenes in Boston. Constantinople and the Bosphorus from the Point of Serai (2 page fold out illustration). Perekop. Scenes in Boulogne. Condition comments. The 2 page fold out plate has been repaired with linen tape and refolded. The outside of the fold out plate has been trimmed down not impacting on the text.
July 28, 1855 (Whole No. 212). Missouri. Map of the Sandwich Islands. West Arch St. Church, Philadelphia. Boulogne Scenes. Swampscot Nahant. Hiram Fuller of New York. Officers of the Crimea (full page illustration, back page).
August 4, 1855 (Whole No. 213). Chantrey's Statute of Washington. East India Silk Worm. St John, N.B., South Sea Islanders at Sydney, New South Wales. Train and Co.'s Fire Proof Warehouse, Melbourne, Australia. View of Fort Snelling, Minnessota. City of Muscatine, Iowa. Scenes in Madeira.
August 11, 1855 (Whole No. 214). View of Franklin Street, Boston. Boy's Robbing an Eagle's Nest. The Goatherd of the Alps. Departure of the Pilgrims at Delft Haven (2 page fold out illustration). US Court House, Bowdoin Square, Boston. Karasu-Bazar, Crimea. Ornithological Illustrations of Natural History (9 different birds depicted) (full page illustration, back page). The 2 page fold out plate has been repaired with linen tape and refolded. The bottom edge has been trimmed resulting in some loss of the lettering below the illustration.
August 18, 1855 (Whole No. 215). Public Market Houses in Boston. The Battle of Culloden, A.D. 1746 (full page illustration). Ruined Bridge Over the Avon. Golden Island (Kin Shun, China). Woonsocket, Rhode Island. The Tomb of Nicholas. Mrs. Annie Senter. Nahant Steamboat Nelly Barker. Mammoth Ocean Steamer, Leviathan. Buenos Ayres.
August 25, 1855 (Whole No. 216). Connecticut. Trieste, Italy. Nathan Richardson proprietor of the Musical Exchange, Boston. Plaza of Mexico. Bound Hill Water Cure Institute at Northampton, Mass. Deaf and Dumb Institution at Jacksonville Illinois. Henry Clay's Mausoleum in Lexington, Kentucky. View of Vicksburg, Mississippi. Thomas De Quincey. New York Asylum for Idiots, Syracuse. Merchants' Exchange, Toronto, Canada. US. Steamer Baltic Crossing the Atlantic.
September 1, 1855 (Whole No. 217). Blackstone Square, Boston. Museum of Carriages at Versalles. Cohasset, Massachuetts. Tropical Humming-Birds. St Mary's Church at Cold Springs, New York. Entomological Illustrations in Natural History (26 insects/butterflies) (full page illustration, back page).
September 8, 1855 (Whole No. 218). Union Club House, New York City. Oliver W. Holmes, The Poet. Scenes of Eastern Life and Manners. How They Make Gunpowder. Object of Salt in the Sea. Hon Abbott Lawrence. House-Car, New Orleans. The Wire Bridge Across the Dneiper at Kiev.
September 15, 1855 (Whole No. 219). California. Views in Quebec. James Russell Lowell. India Building, State Street, Boston. City of Jalapa, Mexico.
September 22, 1855 (Whole No. 220). Mademoiselle Rachel as Phedre. A Chapter on Shells (4 illustrations). Walcott's, Pawtucket. Wm. Culleny Bryant, Poet and Editor. Native Travelling Chair, Madiera.
September 29, 1855 (Whole No. 221). Fishing Party, Boston Harbor. Scenes in Abyssinia. New London, Connecticut. The Oyster Business. Scenes in Brazil - Convoy of Gold from Brazil to Rio Janeiro.
October 6, 1855 (Whole No. 222). An Inland Fishing Party. East Room-Independence Hall, Philadelphia. Voyage of an American Clipper. Hon. Charles H. Peaslee, Collector of Boston. Testimonal to Commodore Perry. Endicott and the English Ensign. Condition comments. Pages 213-22 are bound in by linen tape and the outside margins trimmed down very close to the text.
October 13, 1855 (Whole No. 223). New Masonic Hall. Chariot Races at Florence, Italy. Montreal Scenes. Hon. Robert C. Winthrop. Condition comments. A 3 inch tear is repaired with two pieces of tape on pages 225-6. Pages 225-40 are bound in by linen tape and the outsides margins trimmed down with some loss of text in the outside column.
October 20, 1855 (Whole No. 224). Horticultural Exhibition, Boston Music Hall. Birds-Eye View of Meme;;u's Bell Foundry, West Troy, New York. Old and New Modes of Travelling. Col Isaac H. Wright. Front View of the New Public Library, Boston. English Mail Steamer Alliance. The Sultan of Turkey. Condition comments. Pages 241-56 are bound in by linen tape and the outsides margins trimmed down with some loss of text in outside column.
October 27, 1855 (Whole No. 225). Georgia. Citadel of St Petersburg. Peach and War. Professor Louis Agassiz. History of the Violin. The "Eckford Webb" of New York. India (full page illustration, back page).
November 3, 1855 (Whole No. 226). Lewistown Suspension Bridge. French Churches. Views in Philadelphia. American Artists - Washinton Allston, Hiram Powers, Horatio Greenough and Thomas Cole. Scenes in Central America.
November 10, 1855 (Whole No. 227). Inventors and Discoverers - Watt, Whittney, Morse. Scenes in South America. Scenes in Russia. Boston Theatre-Rachel's Debut. Mrs. Farren, the Actress. United States Agricultural Fair in Boston, October 23d, 24th, 25th, 26th and 27th, 1855 (full page illustration, back page).
November 17, 1855 (Whole No. 228). Texas. Iron Works at Pembroke, Maine. State Prison at Sing Sing, New York. Round the World - Japanese Funeral, Japanese Palanquin, Dinner of Japanese Officers on Board U.S. Ship Powhatan ( with dicussion of Perry Expedition to Japan), Chinese Tanka Boat, Jugglers at Singapore & Dancing Girls of Oahu, Sandwich Islands, Market Scene at Cape Town, St Augustine's Bay, Madagascar & Bruni, Isle of Borneo, Soltan's Palace. Zurich, Switzerland.
November 24, 1855 (Whole No. 229). Preparing for Thanksgiving. Gems of Art - The Genoa Crucifix, Statue of Washington, Statute of Franklin. Norwalk, Connecticut (6 illustrations). Joseph T. Buckingham. Naval Academy, Annapolix (1/3 page illustration). Crimean Scenes.
December 1, 1855 (Whole No. 230). The Fountain House, Medford, Mass. Charles White, the Minstrel. Whaling Fishery on the Coast of Japan. Day of the Dead in Paris. Views of Buffalo, New York (5 illustrations). Real Inventory of the Steamboat (John Fitch not Robert Fulton). Epes Sargent. John H. Pray and Sons' Establishment, Carpet Warehouse, Boston. Natural History Illustrated--the Snake Tribe (11 snakes illustrated) (full page illustration, back page).
December 8, 1855 (Whole No. 231). William M. Thackeray, Novelist. Scenes from the Eastern Hemisphere - Brunn and the Fortress of Spielbert, View of Dresden, St Paul de Loanda, Alicante. American Artists - Henry Inman, Benjamin West, John Trumbull & Gilbert Stuart. Rachel, as Marie Stuart. General View of Newport, R.I. Council of War, the Assault on Sebastopol - Pelissier, Della Marmora & Simpson.
December 15, 1855 (Whole No. 232). American Authors - Longfellow, Irving, N.P. Willis, G.W. Curtis, Bryant, Prescott, Bayard Taylor. Scenes in Sicily. Rochester, N.Y. (6 illustrations). William Warren, the Comedian. Presbyterian Church, Detroit, Mich. Clifton and Bath, England.
December 22, 1855 (Whole No. 233). Louisiana. Fort M'Henry, Baltimore, Maryland, Untied States Ship of the Line, Pennsylvania. Christmas Day - Poor Man's Christmas & Rich Man's Christmas. Hon. Marshall P. Wilder, Architecture of the World (full page illustration, back page).
December 29, 1855 (Whole No. 234). Windmill Point on the St. Lawrence. Fairmount Water Works in Philadelphia and Ice Cutting on the Schuylkill. The Eastern and Western Hemispheres. Enoch Train, Esq. Inside Sebastopol.