Gleason's Pictorial Drawing-Room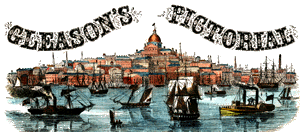 May 15, 1852
Commodore Perry's Squadron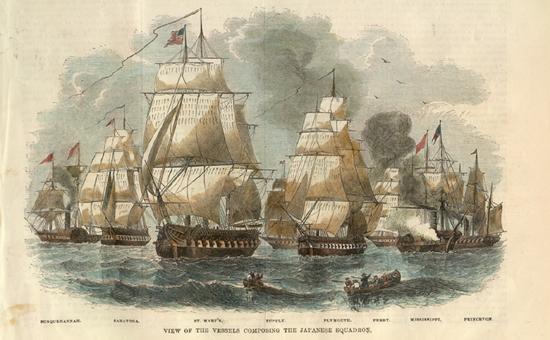 Handcolored - Privately - after the paper was issued.
(click on the picture for an expanded view)

Buy the Item -- To order this item on-line, click here

Author Unstated:
Gleasonís Pictorial Drawing-Room Companion, Boston, May 15, 1852, Volume II, No. 20, page 305 (Front Page of the Paper). The front page of this edition has a one page (6.3/8 x 9.5 in - 16.2 x 24 cm) engraving (woodcut I presume) of the Perry Expedition Squadron. The engraving is titled, "View of the Vessels Composing the Japanese Squadron." While not identified, the engraving is very similar to the 1853 one by J.W. Orr from a drawing by Wade, both of New York. The engraving shows the ships assembled and most with full sail showing. Commodore Perry is seen standing in a long boat headed to board his flag ship, the Mississippi. The drawing was not based on an actual scene but represented the artist's conception of what the assembled squadron would have looked like. The engraving lists 7 ships. The ships are the Mississippi (Perry's Flag Ship), Saratoga, St. Marys, Susquehanna, Plymouth, Princeton, and the Supply. Under the long boat the title reads "Perry." Above the picture an article (4 two inch columns) on the Expedition starts and it is continuted from that page (page 305) onto page 320. On the only copy of this paper that I have examined the masthead and Perry Ships illustration both have handcoloring added. I presume this was done after the fact.
This illustration is similar to a later one that was published in the February 12, 1853 issue of Gleason's. For more information on that illustration, click here
I have placed both illustrations together on this page.
This edition is noted for the illustratation of Santa Anna in Military uniform which is accompanied by an article about him which, among many things, discusses his wooden leg.
For general informaion on Gleason's, follow the links below: