Black Ship Scroll, Oliver Statler
Weatherhill, 1963 - 1st Edition (Limited)
Weatherhill, 1964/5 - 2nd Editions (Public)

Oliver Statler
Lane, Dr. Richard (translations):
Limited Edition: The Black Ship Scroll, Weathermark (John Weatherhill), Tokyo, hard cover, 1963, 5 1/4 x 10 1/4, issued in 1,500 copies for private distribution to members and friends of the Japan Societies of San Francisco and New York (not for sale). White textured paper over boards, with black cloth back strip lettered in white. No price printed on dust jacket.
Public Edition: Basically same as above except not issued in limited quantity. Different title page, contains a note regarding a correction (see below) and one instance of corrected text. Dust jacket has pre-printed price (inside flap at upper right).
This book consists of a 30 page introductory essay regarding the Perry Expedition to Japan and 40 internal pages of the actual scrolls that were painted documenting his visit to Shimoda in 1854. Color scroll paintings are also on the inside of the front and back cover extending across to the adjoining page. Each painting has been translated and comments based on contemporary records provided. In the comments it is noted that these paintings fall in the category of folk art and typical of this art, the foreigners were depicted as they were "supposed" to look rather than the way they really were.
The book was promoted with a single sheet illustrated flyer/order form. The front of the flyer essentially is the dust jacket of the book with an order form added. The back of the flyer contains information on the book and Oliver Statler. It states a price of $6.50. To see this flyer, click here.
Both editions of the book are available on-line. To order, click here

Dust Jacket - Same on both Editions
Except the 1963 Edition has no Pre-Printed Price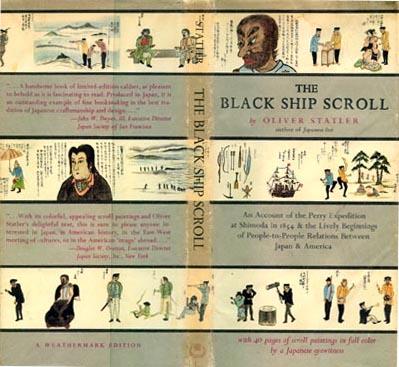 Title Page
1963 Limited Edition ---- 1964 Public Edition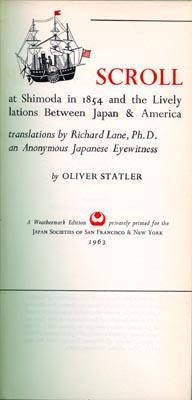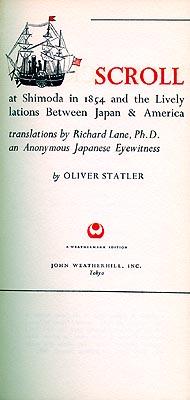 Copyright Notice
1963 Limited Edition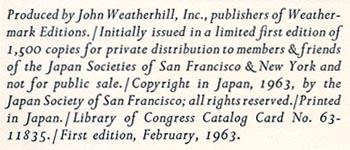 1964 Public Edition - 2nd Edition, 1st Printing - Rutland, Vermont


1965 Public Edition - 2nd Edition, 2nd Printing - Tokyo


Note re Correction in 2nd Edition