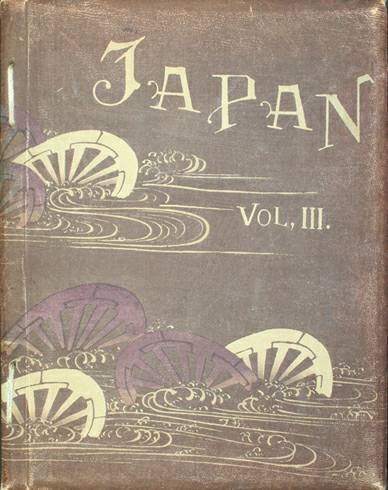 Okakura, Kakuzo
Brinkley, Frank (Captain):
Japan, Described and Illustrated by the Japanese, Written By Eminent Japanese Authorities and Scholars, Volume III, Boston & Tokyo, J.B. Millet Company, 1897, Volume III (one volume only of a ten volume set), designated "Edition de Luxe" limited to 750 numbered copies this being number 134, folio (12 1/2 x 15+ in), silk covers with beveled edges, folded pages, 1 color flower collotype by Kazumasa Ogawa, 6 large hand colored albumen photographs (8 x 10 1/2 inch), 1 color art reproduction plate accompanied by an essay by Kakuzo Okakura, 18 small hand colored albumen text illustrations/photographs (ca 3 1/2 x 5 in), numbered pages 75-112, 47 pp (38 pages of text narrative with text illustrations + 8 full plates + 1 page art essay). This book contains "Chapter IV. Establishment of the Tokugawa Dynasty and Japan's Relations with the Orient in the Early Ages of the Christian Era (pages 75-90)" and "Chapter V. Japan's Debt to Continental Neighbors in Early Eras (pages 91-112)." The highlight of this book is the large photograph by K. Ogawa of a geisha described as "A Tokyo Beauty."
Each of the 6 large albumen photographs is preceded by a thin sheet which protects the photograph and contains a brief discussion of the photograph. The "A Tokyo Beauty" photograph is preceded by the sheet stating:
A Tokyo Beauty.

The leading geishas of Tokyo competed for prizes to be awarded them for their beauty by the vote of competent native judges. Among the prize winners the lady whose picture is here given, secured well-deserved preeminence. (to see click here).
The collotype print of a flower plates is printed directly on the plate. The albumen photographs are tipped to plate. The collotype plate, the full page albumen photographs and the art reproduction plate are mounted with covering mats. The plates and mats are the same color. The mats are affixed (glued) to the plates at the binding edge and also glued approximately 1/4 the distance along the two edges adjacent to the spine.
The text illustrations in the "Edition de Luxe" (a deluxe edition) are different images from those found in the standard/regular editions. Further, they are tipped in hand colored albumen photographs as opposed to the black and white half tone images as found in the regular/standard sets.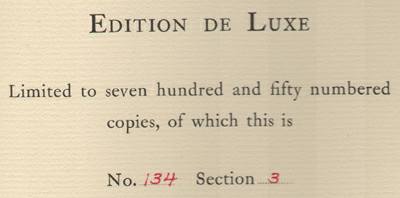 The covers are decorated colored brocade cloth with beveled edges and tied with thick cord stitching which firmly binds the contents in traditional Japanese manner.
The Xylograph print accompanying the essay on Japanese art by K. Okakura, Director of the Imperial Art Academy, was printed in Tokyo by the Kokkwa (Kokka) Publishing Company.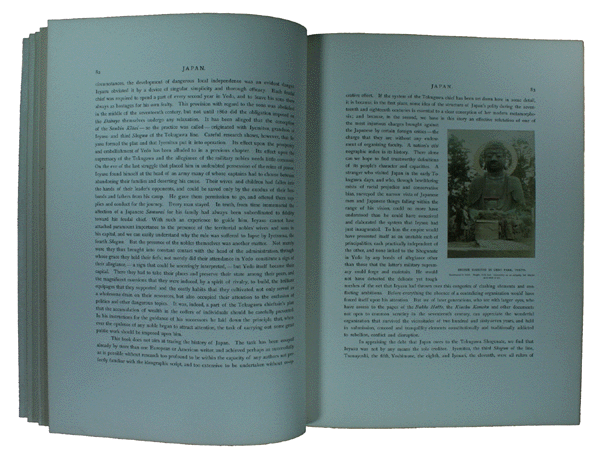 Title Page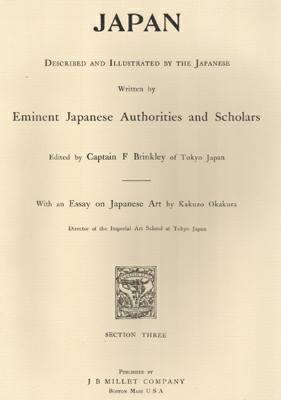 Chapter IV. Establishment of the Tokugawa Dynasty and Japan's Relations with the Orient in the Early Ages of the Christian Era (pages 75-90).

Pictures include:

Temple of Hachiman at Kamakura

Shogun's Tomb in Shiba Park, Tokyo

Spectacle Bridge at Kyoto

Bronze Daibutsu in Ueno Park, Tokyo

Torii at Miyajima

Theatre Street in Yokohama

Six-Angled Temple in Kyoto

Tub-Maker

Mother and Child

Ploughing a Rice Field

A Tokyo Beauty - hand colored albumen print 8 x 10 ½ in

"35" etched in white on the image - K. Ogawa photograph

The Sleeping Cat at Nikko




Chapter V. Japan's Debt to Continental Neighbors in Early Eras (pages 91-112)

.

Pictures include:

Pagoda at Nara

Japanese Kite and Stilts

Farmer Pounding Rice

Stone Steps Leading to Temple in Tokyo

Umbrella Maker

Woodblock (xylograph) Reproduction of Painting
A Painting of the Kasuga School, Eleventh Century
(Okakura Essay here).


General Comments Regarding the Brinkley Book Sets.
Regular and Deluxe Formats. The set was issued in two basic formats described below.

Regular/standard format editions normally have 10 volumes containing 10 Kazumasa Ogawa color collotypes of flowers (frontispiece to each volume) and 30 hand colored albumen photographs tipped to plate (3 per volume). They also have 200+ text illustrations which are half-tone black and white and printed directly on the page. The set was also issued as a 15 section series with decorative card wraps. This is a variant of the standard 10 volume set. It does contain 5 more Ogawa color collotypes of flowers and lithographic replicas of the silk screens.

Deluxe format editions of this series contain the same 10 Ogawa color collotypes of flowers (frontispiece to each volume) and 60 hand colored plates (6 per volume - image 8 x 10 inch generally). Thirty of the plates are identical to those found in the 10 volume series and 30 are different. In addition, the text illustrations (image 3 1/2 x 5 in) in the deluxe format volumes, of which there are 200, are also hand colored tipped in albumen photographs with captions printed on the page directly below the illustration. The collotypes and albumen photographs plates are mounted on colored paper and have a colored mat affixed to the page. The deluxe editions also have 10 color/xylograph plates reproducing Japanese Paintings and some editions contain 10 (20) color plates with actual Japanese art work (ie paintings on silk, watercolors, color woodblocks, mono-color stencil prints on silk as used in printing fabrics).

Various Editions/Number of Sets Produced. There were numerous editions of both standard and deluxe format editions. Those I am aware of can be found listed here. I have accounted for 1,425 deluxe/limited edition book sets (12 different editions) and there probably were more. For standard or regular editions I have accounted for 3,075+ sets across 4 different edition. Further there is no quantity stated for the 15 section set.

Sebastian Dobson in Art & Artifice, Japanese Photographs of the Meiji Era, states:

During the years of 1897 and 1898, the work was published in various limited editions, and for fourteen of the sixteen editions produced we know that 151,500 large-format photographs and 254,000 small-format photographs were hand-colored and later tipped into 37,750 individual volumes. (at page 33-34) (Author's footnote refers to Denise Bethel, "The J.B. Millet Company's Japan: Described and Illustrated by the Japanese," Image, volume 34, numbers 1-2 (1991): 3-32)

Since the small-format photographs were only placed in deluxe edition sets and each set would have 200 of them, that would mean 1,270 sets of deluxe editions with 10 volumes each (245,000/200). This is relatively close to my accounting of 1,425 sets. Using the Bethel number of total large plates (151,500), I calculate a total of 2,510 standard editions (151,500-85,500 [large plates in deluxe editions = 60 per set x 1,425 sets = 85,500] = 66,000/30 [30 large plates in regular editions] = 2,200 sets of standard/regular editions). I have accounted for 3,075 sets, a third more than the quoted number 151,500 would support. The figure of large format plates was probably more like 175,000 - 200,000.

Covers/Bindings. In the 10 volume sets the cover are decorative cloth (linen) over heavy boards. Each volume in a set has matching decorative patterns but different color schemes. The standard edition sets have pasted on titles while the deluxe edition sets have the title printed on the cloth. All 10 volume sets have cord ties. The cord ties are decorative only and not essential for holding the books together. Internally, the pages are firmly bound together at the inside margins with staples, string and glue. The covers on the 15 section set are decorative card stock with the same logo and color.

Source of Color Albumen Photographs. Terry Bennett, in his book Early Japanese Images, identifies Kozaburo Tamamura as the source of the colored albumen photographs used in these book sets. He states that Tamamura provided 180,000 photographs to a dealer in Boston which were "undoubtedly" provided for the Brinkley books (see page 52). Tamamura was a famous photographer and serviced the tourist souvenir photograph trade in Japan as well as the export trade. It is clear that many of the photographs supplied were from his inventory. However, it is also clear that he used photographs taken by other famous Japanese photographers. Many of the albumen photographs were from Kazumasa Ogawa, who also provided the color flower collotypes for the books. Notice the similarity between the Brinkley color albumen photograph titled "A Tokyo Beauty" (Volume III, "De luxe" Edition) and a K. Ogawa collotype from Celebrated Geysha of Tokyo published ca 1892. For more information on the Geysha book, click here.


The problem with attributing the photographs to a particular photographer is the lack of credits on the photographs or in the books.

Text Illustrations. The text illustrations in the standard format editions (black and white halftone printed directly on the page) and those in the deluxe edition formats (tipped in colored albumen photographs) are not the same. Basically, a different set of the 200+ in text illustrations was used in the two formats. Since neither set of text illustrations actually depicted the associated text, it really does seem to matter. It my opinion, they were pretty much added at random to enhance the visual appearance of the books.

American Color Illustrated Book. Technically speaking, these books are often classified as an "19th century American color illustrated" books. While the collotypes and hand colored albumen photographs were imported from Japan, the books were printed, assembled and distributed in the United States.

Illustrated Discussions of Various Sets on this site.

Related Pictorial Arts Set Published in 1901/2.

The Art of Japan, Pictorial Art, Volume 1, Deluxe Edition here.