Condition. The book is in Good condition. The silk cloth is heavily worn. It is breaking away from the boards, particularly at the spine. The corners and edges are heavily worn and frayed. Pics of the covers are here. The mat on the frontisplate is broken at 4 places (2 break in left margin and 2 breaks in right margin - pic here). Internally the book is clean but there is occasional scattered foxing on the plates. Most, but not all, plates have tissue guards. One tissue guard is loose. The tissue guards are discussed below where each plate is pictured. The folded leaves are complete and unbroken. The text portion of the book is clean and free of foxing and staining.


Brinkley, Frank (Captain):
The Art of Japan, Pictorial Arts, Special Extra Illustrated Edition, Boston & Tokyo, J.B. Millet Company, not dated but ca 1901, decorated silk, spine covered, decorative cord ties, large to (12 1/4 x 15 in - 31.3 x 38.4 cm), 46 numbered pages on 23 uncovered folded leaves, 16 full plate color woodblock prints, 2 full plate single color woodblock plates of screen patterns, 6 tipped in color prints, 20 tipped in halftone text illustrations (some tinted). Contains a page with facsimiles of signatures and on the next page the English translation. Color woodblock reproductions (24 in total) of works by Keio-on, Hokusai, Gogyo and Gekko and others. Haftone illustrations (20 in total) of the works of by Hokusai, Masanobu, Motonobu, Sesshu, Tanyu, Tosa, Okio, Korin, Kishi Renzan Toku, Kobori Tomone, Hashimoto Gaho, Nomura Bunkyo and Giokusho.

This is a deluxe edition of this volume. There was another deluxe edition and information on that book is here. The difference in the two editions is in the plates. Of the eighteen plates (16 full page woodblock prints and 2 full page screen patterns) only five are found in both book.

Wenckstern notes the deluxe edition of volume 1 and states it was limited to 750 numbered copies and was priced at $50 and published in 1901. In addition, Wenckstern notes the "cheap" edition (called 'Yedo' edition) identical with the preceding, with the exception, that it contains only 12 coloured plates, 1902 ($25)." As a matter of comparison, Wenckstern states that the 10 volume bound set of Japan Described and Illustrated (or the 15 section unbound edition) were priced at $40. The deluxe edition of this single volume cost more than the regular 10 volume set of Japan Described and Illustrated.

The very low printing and high initial price make this a very scarce book. Unlike the several deluxe editions of Japan Described and Illustrated (which I believe total more than 1225 sets), it appears that only two deluxe editions of this book were issued. If you look at the cost of this book in today's dollars, the result is astonishing. The Federal Reserve Bank of Minnesota has a web page with a consumer price index calculator that goes back to 1913. To visit that web page, click here. When you enter in the cost of $50.00 in goods in 1913 you get the equivalent of $1110 in 2010 dollars as the CPI adjusted value of the 1913 dollar. A rather significant outlay for a single book. Probably most of the books went into institutional hands. This definitely was not a book targeted for the mass market.


Full Page Plates (18) (unnumbered, mounted on thick, high quality card) attached to binding with quality pliable screen type fabric)
Short Title Page "Special Extra Illustrated Copy."



Title Page.

(Illustrated with Tipped in Watercolor)

Table. Kakemono and Marimono Markings/Signatures (front)
and Key to Table in English (back)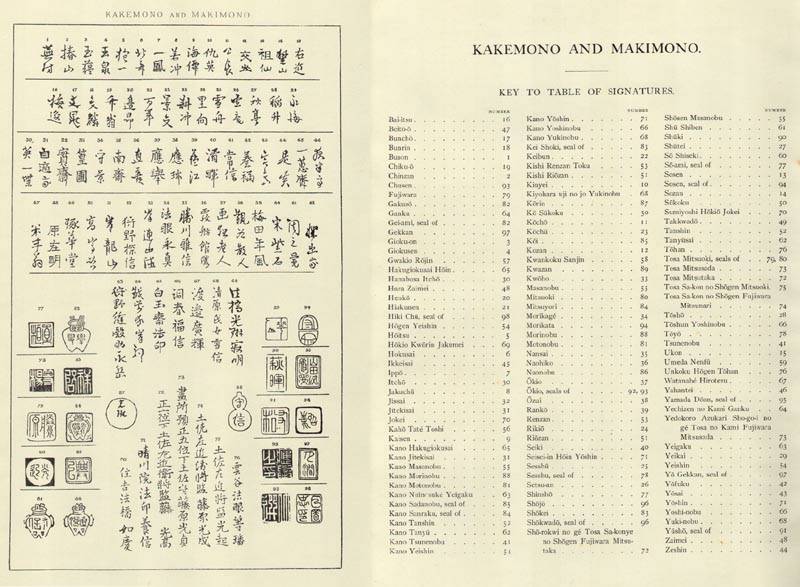 Color Woodblock Text Illustrations (6) (generally 8 x 6 in) tipped to page.

Halftone Text Illustrations (20) (generally 6 1/2~7 1/2 x 3~5 in) tipped to page.
Warrior (from line drawing by Hokusai), black and white, page 2
Warrior with Spear (from line drawing by Hokusai), color, page 3
Moonlight on the Snow (Motonobu) page 9
A Summer Landscape (Sesshu) page 11
A Visit with a Lyre (Motonobu) page 13, brown tint
Rihaku Looking at a Waterfall (Masanobu), page 15

Cliffs in a Fog (Tanyu), page 19, brown tint
A Quail and Rice (Tosa), page 25
Heron (Sesshiu), page 27, brown tint
Carp in Stream (Okio), page 29
The Beggars (Hokusai), page 31

Wild Duck (Kishi Renzan Toku), page 35
Playing on the Biwa (Kobori Tomone), page 37, reddish tint
Ravens in a Pine Tree (Giokuden, page 38
Snow Scene (Hashimoto Gaho), page 40
Sunrise on the Seashore (Nomura Bunkyo), page 41
The Riverbank (Giokusho), page 45

High Quality Flexible Binding Used on Plates


---
This is a follow up book to Japan Described and Illustrated published in 1897-8. More information on that set, including links to illustrated descriptions, can be found below.
General Comments Regarding the Brinkley Book Sets.
Regular and Deluxe Formats. The set was issued in two basic formats described below.

Regular/standard format editions normally have 10 volumes containing 10 Kazumasa Ogawa color collotypes of flowers (frontispiece to each volume) and 30 hand colored albumen photographs tipped to plate (3 per volume). They also have 200+ text illustrations which are half-tone black and white and printed directly on the page. The set was also issued as a 15 section series with decorative card wraps. This is a variant of the standard 10 volume set. It does contain 5 more Ogawa color collotypes of flowers and lithographic replicas of the silk screens.

Deluxe format editions of this series contain the same 10 Ogawa color collotypes of flowers (frontispiece to each volume) and 60 hand colored plates (6 per volume - image 8 x 10 inch generally). Thirty of the plates are identical to those found in the 10 volume series and 30 are different. In addition, the text illustrations (image 3 1/2 x 5 in) in the deluxe format volumes, of which there are 200, are also hand colored tipped in albumen photographs with captions printed on the page directly below the illustration. The collotypes and albumen photographs plates are mounted on colored paper and have a colored mat affixed to the page. The deluxe editions also have 10 color/xylograph plates reproducing Japanese Paintings and some editions contain 10 (20) color plates with actual Japanese art work (ie paintings on silk, watercolors, color woodblocks, mono-color stencil prints on silk as used in printing fabrics).

Various Editions/Number of Sets Produced. There were numerous editions of both standard and deluxe format editions. Those I am aware of can be found listed here. I have accounted for 1,425 deluxe/limited edition book sets (12 different editions) and there probably were more. For standard or regular editions I have accounted for 3,075+ sets across 4 different edition. Further there is no quantity stated for the 15 section set.

Sebastian Dobson in Art & Artifice, Japanese Photographs of the Meiji Era, states:

During the years of 1897 and 1898, the work was published in various limited editions, and for fourteen of the sixteen editions produced we know that 151,500 large-format photographs and 254,000 small-format photographs were hand-colored and later tipped into 37,750 individual volumes. (at page 33-34) (Author's footnote refers to Denise Bethel, "The J.B. Millet Company's Japan: Described and Illustrated by the Japanese," Image, volume 34, numbers 1-2 (1991): 3-32)

Since the small-format photographs were only placed in deluxe edition sets and each set would have 200 of them, that would mean 1,270 sets of deluxe editions with 10 volumes each (245,000/200). This is relatively close to my accounting of 1,425 sets. Using the Bethel number of total large plates (151,500), I calculate a total of 2,510 standard editions (151,500-85,500 [large plates in deluxe editions = 60 per set x 1,425 sets = 85,500] = 66,000/30 [30 large plates in regular editions] = 2,200 sets of standard/regular editions). I have accounted for 3,075 sets, a third more than the quoted number 151,500 would support. The figure of large format plates was probably more like 175,000 - 200,000.

Covers/Bindings. In the 10 volume sets the cover are decorative cloth (linen) over heavy boards. Each volume in a set has matching decorative patterns but different color schemes. The standard edition sets have pasted on titles while the deluxe edition sets have the title printed on the cloth. All 10 volume sets have cord ties. The cord ties are decorative only and not essential for holding the books together. Internally, the pages are firmly bound together at the inside margins with staples, string and glue. The covers on the 15 section set are decorative card stock with the same logo and color.

Source of Color Albumen Photographs. Terry Bennett, in his book Early Japanese Images, identifies Kozaburo Tamamura as the source of the colored albumen photographs used in these book sets. He states that Tamamura provided 180,000 photographs to a dealer in Boston which were "undoubtedly" provided for the Brinkley books (see page 52). Tamamura was a famous photographer and serviced the tourist souvenir photograph trade in Japan as well as the export trade. It is clear that many of the photographs supplied were from his inventory. However, it is also clear that he used photographs taken by other famous Japanese photographers. Many of the albumen photographs were from Kazumasa Ogawa, who also provided the color flower collotypes for the books. Notice the similarity between the Brinkley color albumen photograph titled "A Tokyo Beauty" (Volume III, "De luxe" Edition) and a K. Ogawa collotype from Celebrated Geysha of Tokyo published ca 1892. For more information on the Geysha book, click here.


The problem with attributing the photographs to a particular photographer is the lack of credits on the photographs or in the books.

Text Illustrations. The text illustrations in the standard format editions (black and white halftone printed directly on the page) and those in the deluxe edition formats (tipped in colored albumen photographs) are not the same. Basically, a different set of the 200+ in text illustrations was used in the two formats. Since neither set of text illustrations actually depicted the associated text, it really does seem to matter. It my opinion, they were pretty much added at random to enhance the visual appearance of the books.

American Color Illustrated Book. Technically speaking, these books are often classified as an "19th century American color illustrated" books. While the collotypes and hand colored albumen photographs were imported from Japan, the books were printed, assembled and distributed in the United States.

Illustrated Discussions of Various Sets on this site.

Related Pictorial Arts Set Published in 1901/2.

The Art of Japan, Pictorial Art, Volume 1, Deluxe Edition here.