Operation Goodwill
Blackie Bradford Photographs

Ketchum, Rev. Cres. (Compiled by)
Yoshiharu Iha (Translated by)
Blackie the Photographer ("Photos By"):
'Operation Goodwill' - Throughout the Ryukyu Islands Aboard the Mission Vessel 'Island Evangel', Okinawa?, Hoshi Printing Company, ca 1957, stiff wraps, front cover illustrated, 8vo (8 x 10 in) text in English and Japanese, 58 numbered black and white halftone photographs (2 or more per page), 8vo (8 x 10 in), 36 pp. The book documents an evangelistic visit to Zamami Island (in the Kerama Islands) of the Ryukyu Islands by Reverend Ketchum. Many of the photographs include Reverend Ketchum. Each photograph is numbered and notes provided regarding each photograph. There are no year dates provided in the book. The population of Zamami Village is stated to be 600. The photograph numbered 56 is of the boat "Island Evangel." The text notes that "Last March the people of Zamami finished a beautiful Peace Monument" (page 34). Photograph number 10 is of the members of the Okinawa Shrine Club with a crippled boy the Club was sending to the Shriner's Crippled Children's Hospital in Hawaii.
Title Page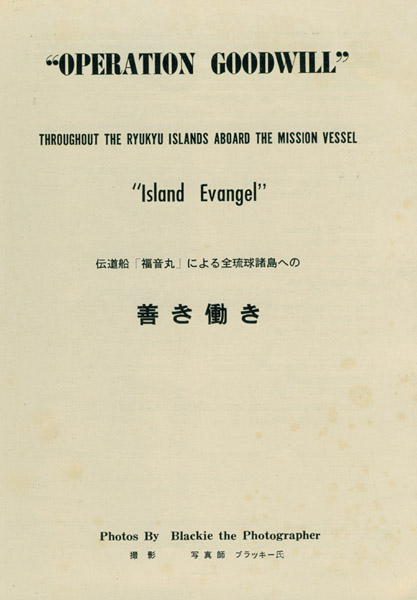 For more information on Blackie the Photographer books, click here.