This Month on Okinawa
October 1960
Blackie Bradford Article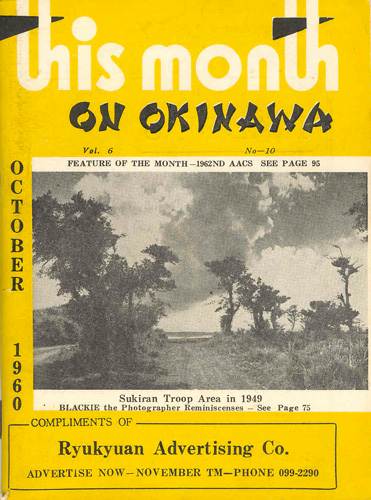 Blackie the Photographer Reminiscences, published in This Month on Okinawa, October 1960, Okinawa, Ryukyuan Advertising Co., 1960, 12mo (5 1/4 x 7 in), paper wraps, staple bound, black and white photograph illustrations reproduced in halftone, 160 pp. This article (page 75-83) commemorates Blackie's 11th anniversary on Okinawa. It notes that Blackie arrived on Okinawa in October of 1949 as an Air Force Staff Sergeant. The article presents 13 (cover photo and 12 photos in text of the article) of the 10,000 photographs Blackie had amassed over the 1l years. Most of the photographs are accompanied by Blackie's explanations.
The article solves one of the major mysteries surrounding Bradford's nickname of Blackie. Apparently Blackie was derived from the fact that he dressed in "...black suit, black underwear." (p75)
For more information on Blackie the Photographer books, click here.