Battery C, Far East, 1965-6
Okinawa in Photo's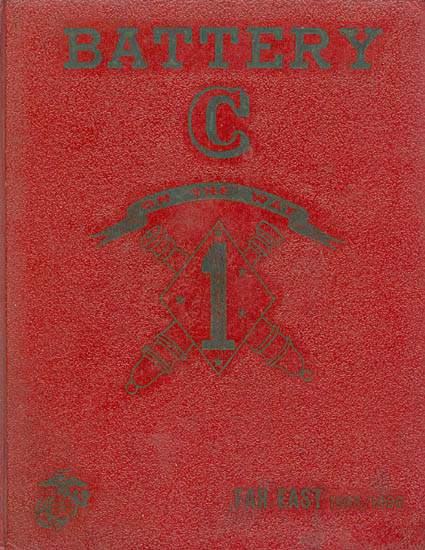 Blackie the Photographer:
Battery C, Far East, 1965-6, publisher not stated but Walsworth of Marceline, Missouri, 8vo (8 1/4 x 10 1/2), hard covers with titles, First Marine Division insignia & USMC eagle, globe and anchor device on the front board in black, not dated but ca 1966, a two part book, Part I, Battery C, 40 pages, Part II, Okinawa, 64 pages.
Part 1. Battery C, Far East, 1965-6. This is a "yearbook" for Battery C, FMF, 1/11. It covers the period from the unit's arrival in Okinawa on September 13, 1965, through it's deployment to Vietnam up to September 1966. The yearbook is well illustrated with a unit photograph and individual photographs of the members. There is a one page alphabetical index of the unit members which lists home addresses.
Part 2. Okinawa, general photographs of Okinawa, 78 photographs reproduced in black and white halftone, 64 numbered pages. Blackie's signature image of Okinawa ("Papasan's Day is Done") appears in a full page photograph. The last 7 pages have 13 images of Hong Kong, the Philippines and Japan.
Dating the Book. The book was published ca 1966. Many of the Okinawan images can be traced to other Blackie books from the early 1960s.
On the inside of the back cover, the photographs are attributed to Blackie the Photographer.


For more information on Blackie the Photographer books, click here.


Part 1.

Unit Photo - Battery C, FMF, 1/11 (late 1965 or early 1966)
Inside Front Cover and Adjoining Page


Introductory Letter, "Battery C. Far East 1965-1966" signed by Captain J.O. Cranford

Commander (Captain James O. Cranford)
Officers (Eight 1st and 2nd Lieutenants)


Battery Office (First Sergeant Engler) & Staff


Officers and NCOs
Headquarters Platoon & Gun Platoon
Headquarters
  Fire Direction.
  Liaison
  Forward Observer Teams
  Communications & Communications Section
  Ordnance, Medical, Cooks & Supply
Motor Transport
Guns (Guns 1- 6)
Ammunition Section
Alphabetical listing of unit with home address


Key Events

Camp Hansen, Okinawa (September - December 1965)


Battery Beer Bust

BLT 3/1 Prepared for Division Commander's Inspection 

Camp Fuji, Japan (October 1965)


At the Seibi Orphanage, Yamanaka Lake, Japan

Viet Nam

Operation Quang Ngai Province, Vietnan


"Double Eagle" (January - February 1966)


Chu Lai (February - September 1966)


Operation "Utah"


Operation "Indiana"
 

Operation "Iowa"


Inside back cover and adjoining page
Operation "Iowa," Gun 6 during continuous fire




Part 2.  Okinawa (tites as on the photos).

Okinawa


Rice belt, Haneji Valley
Rice harvest, a family job

Working in Rice

Papa-san with his honey buckets (Koe Oke)

A Staircase of tea (Ocha) at harvest time

"Here comes the bride" (Hanayome-san)

He's not heavy. He's my brother (Ototo).


Father's slippers (Otosan no zori)

Ripley won't believe it.
Good advertising.


Baby Sitter (Komori), Okinawan style.


Dressed up for New Year (Oshogatsu) in our Kimono.

The Obi holding my sister (Imoto).

Togetherness (Tomobataraki) in Okinawa.


Papasan's (Ojisan) day is done.

Grandmother (Obasan).

Family tomb (Haka)
Family tomb

The Capital (Shufu), Naha City, Okinawa.


Here comes the parade. Main street (Kokusai-Dori), Naha, Okinawa

Koza City.  Needed more Kamikaze Taxi Cabs
Where is everybody going?

Nago City, Central Okinawa
Ishikawa, Florida of the Pacific

Natural pass in northern Okinawa.

Fishing village, unchanged for generations
Oku, the Okinawa's most northern village

Home (Uchi), sweet home.


Uchi, the country (Inaka).


Oriental dream house
An Oriental living room (Tomonoma)

Reflections

Scenic coastal drive on the western shore.


Okinawa's most famous tree (Ki).

Beautiful Beaches surrounding Okinawa
Seashore villages are many.

Chores before sailing.

Moonlight patching of nets.

Net fishing for the most popular flavor of the Orient (2 photographs)

In port for New Year (Oshogatsu).

Refreshing in the hot summer (Atsui Natsu).


Please (Dozo) come in.
Sho chiku Bai dance.

Saki to drink.

Sukiyaki Chow.
Playing the Taiko and Samisen

Playing the Koto and the Fue.

Yotsudake dance.

Tea house beauty, Nuchibana dance.

Tanchame dance.


Pachinko, the Orient's one arm bandit.

Harvest festival (Honensai).

Street dancing (Odori).
Geisha girls parade (Juriuma).

Each village has its own team.
Eisa Dance.

Koza's Island-wide Eisa dancing contest.
Bring your lunch and stay all day.

Happy baby (Akachan).
Takusan movie fans.

Little girls still like to hulahoop.

Mamasan and here kodomodachi.

Harvest celebration, tug of war (Tsunahiki).
Bulls fight each other. Dig those crazy matadores.


Men of the Sea's Day (Kaijinsai)
Boat race (Haryusen) victories are not easy.

Sumo wrestling.
Queen of the beauty contest.

Dressed up today.

Nangusuku Park overlooking Nago.

Habu, the poisonous snake of Okinawa.
Dolphin (Hito) kill in Nago Bay.

(Note the Walsworth logo at bottom)

Benigata, a hand made and hand colored material.
Shoe store (Getaya).

Shurei-no-mon, entrance to old Shuri Castle (Reconstructed after World War II).
Cherry-blossoms, Torii gate and a pretty girl make a perfect picture.


Non-Okinawa Section.

Okinawa's neighbors.  Hong Kong's Tiger Baun Garden.

Hong Kong.
Tokyo, Japan


Goju-no-to, Kohuku Temple, Japan.
Mount Fuji, Japan.

Village, Taiwan.
A street of bargains, Taiwan.

A rich fertile valley, Taiwan.
Manila, P.I.

Work horse of the P.I., the caribou.
Friendly country people, P.I.

A Papa-san of Korea.
Korean village.