"What a Wonderful Life"
by Blackie Bradford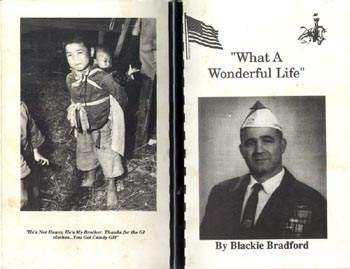 Bradford, Blackie (Earnest Gordon):
"What a Wonderful Life", self published, large 12mo (5 3/4 x 8 1/2 in), illustrated card covers, plastic spiral bound, August, 1994, 23 photographs/illustrations (including those on the covers) reproduced in black and white halftone, unpaginated but 112 pp. This is not an autobiography. Rather, it is a series of Blackie's own stories from various times in his life. I suspect that this book provides the final chapter in the "Blackie the Photographer" story. A story of which so many who lived on Okinawa have their own fleeting and special recollections.
Below I will list a number of points I have taken from Blackie's stores.
Born on July 8, 1921 in Kansas.
Grew up in the 1930s on the Heck ranch near Red River, New Mexico (Santa Fe area) and other locations in that area.
Joined the Air Force in 1940 and served one tour and after a short interval signed up again. Graduated from a special course and became an enlisted pilot - "a flying Sgt." Flew forty-two B24 and B17 bombing and "special night" missions out of Italy during WWII. After the war transferred to the Pacific.
Arrived in Okinawa in 1949 (August) and spent 18 1/2 years there. Departed Okinawa in 1968 (precise date not given but probably February).
Discharged from the Air Force (1952) and remained on Okinawa where he became a "professional photographer" which he described as "...something of a miracle...."for an ole cowboy."
Served as a foreign correspondent for NBC TV.
Had a deep respect for foreign missionaries and a friend on Okinawa was the Reverend Otis Bell.
An interesting facet of Blackie's photography was the coloring of photographs. In the early 1950s he began using "Lewis," a half Filipino and half Okinawan, to colorize black and white photographs. While Lewis was good at coloring photographs, the business increased past his capacity. Blackie noted that at one time Lewis trained and used ten Okinawans to color photographs for his operation.
The table of contents (stories) for the book is provided below. There is one story in the book which is not listed in it however. It is titled "I Still Get Tearied Eyed When I Read Them." The story is here.
For more information on Blackie the Photographer books, click here.