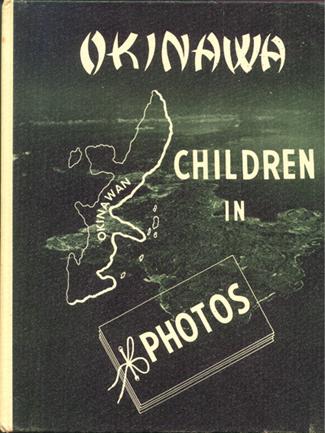 Blackie the Photographer (Pictures)
Sevland, Eva (Text):
Okinawa Children in Photos, Dallas, Taylor Publishing Company, ca 1962, 8vo (8 1/2 x 11 1/2 in), 96 pp, 330 black and white photographs, hard covers (front pictorial spine and back ivory). A photo essay on Okinawa and Okinawan children in the early 1960s.

For more information on Blackie the Photographer books, click here.

The book is a photo essay on Okinawan Children and Okinawa in general. It is not dated but the latest date in the text indicates 1961. I have seen a book with the owner's annotation of 1964. I suspect the publication date was late 1961 to early 1962. The format is primarily pictures (with captions) with a few pages of text included. Almost every picture has a descriptive caption and some have longer comments.
The book is composed of two parts. The focus on the first part is children. The second part is about Okinawa in general.
Part 1. The Children. This section has over 250 pictures and covers 64 pages. Most pages have multiple pictures but a few have only one large picture. The book was apparently published to raise funds for Christian missionary work and many of the captions have religious references. There is a section on the welfare work of the military chapels. Major sections of photographs are grouped into categories which include:
Baby Sitters (young children tending infants)
Children Everywhere
Children at Play
Children at School
Children at Work
Children at Worship

Part 2. Okinawa. This section spans 32 pages with more than 86 photographs. This section includes views of military housing, a military shopping center (Zukeran PX), the Army Hospital, Dependent School (Kubasaki?), various chapels, Okuma and Yaka Beach Rest Centers, Ishikawa Beach, American military related clubs (Machinato NCO Club, American Legion etc), aerial views of Naha and Northern and Northern Okinawa, the "Famous Five" (PaPa-san, MaMa-San, "Houseo," "Okinawan Baby Sitter," and the "Happy Valley") and many typical Okinawan scenes including a bull fight, habu and mongoose fights, tombs, rice paddies, Nami-No-Gu Shrine and on an on.