American Voyages to the Orient
Charles Oscar Paullin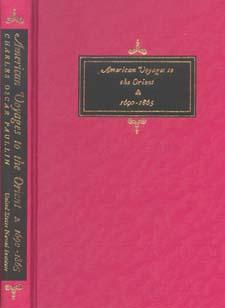 Buy the Book -- To order this book on-line, click here

Paullin, Charles O.:
American Voyages to the Orient 1690-1865: An Account of Merchant and Naval Activities in China, Japan and the Various Pacific Islands, A Collection of Articles from the United States Naval Institute Proceedings, Annapolis, United States Naval Institute, 1971, 182 pp, red cloth, dust jacket. This is a compilation of articles from the U.S. Naval Institute covering numerous American voyages to the Orient and Pacific Islands. The book spans the wide range of voyages including the early colonial voyages, establishment of the Pacific Naval Station (1821-4), the East India Squadron (established 1834), various voyages in support of opening the orient trade (China, Siam and Japan), the Perry Expedition to Japan and the survey and exploration voyages during and following the opening of Japan. The Perry Expedition is covered in chapter XII (pages 121-142).
The book provides a comprehensive reference for the major US related voyages to the Orient. The sections prior to the Opening of Japan (Chapters I-XI) put the Perry Expedition to Japan in historical perspective. The voyages of the Morrison the Columbus and Vincennes and the Preble are covered in Chapter XI (First Voyages to Japan). The Perry Expedition is covered in Chapter XII. The post-Perry activities of the East India Squadron are tracked for 10 years as well as the numerous exploration, survey and diplomatic mission voyages during the 1837-1850 period.
The book provides an excellent reference to put the early commercial and Naval voyages in perspective. This is a well researched work with numerous documentary footnotes. These footnotes are an invaluable asset for conducting individual research.

Table of Contents

I.    Colonial Voyages, 1690-1783
II.   The Essex Convoy to Batavia, 1800
III.  The Cruise of the Peacock, 1815
IV.   The Congress in China, 1818-1821
V.    The Vincennes Circumnavigates the
        Globe, 1826-32
VI.   The Potamac Subdues Qualla Batto,
        1831-32
VII.  Diplomatic Missions to China, Siam
        and Muscat, 1832-37
VIII. The Vincennes in the Western
        Pacific, 1835-1836
IX.   Commerce Protection in Africa
        and China, 1838-1840
X.    The Opening of China, 1842-1850
XI.   First Voyages to Japan, 1846
XII.  The Opening of Japan, 1851-1854
XIII. The East Indies Squadron, 1854-65
XIV.  Explorations, Surveys and
        Missions, 1838-57
Index
The paper used in this book is sixty pound Warren's No 66, Antique (per a note at the back). This is appears to be a very high quality stock. The outside edges of the paper (side and bottom) are cut roughly. Periodically, the internal pages have a bottom edge that is 1/8 in short. I have noticed this on every copy of the book that I have examined.