1856 Abridged Narrative.
Perry, Commodore M. C.,
Hawks, Francis L., compiler:
Narrative of the Expedition of an American Squadron to the China Seas and Japan, Performed in the Years of 1852, 1852, and 1854, Under the Command of Commodore M. C. Perry, United States Navy.
The Abridged Narrative is much smaller in format (page size - 6.5 x 10 in) than the original Narrative (page size - 9 x 11 1/2 in). It does not have lithographs. I believe this is an error. There are 9 major plates. Each of these major plates has a title/lettering. The lettering even cites a lithographic printing company. However, I believe these are engraved plates that reproduce lithographs found in volume 1 of the three volume Narrative. Nothing in the book is in color or sepia tones. These major plates measure approximately 11-12 x 17-18 mm. There are numerous illustrations through out the narrative, some of them full page. However, only the Major plates have titles/lettering like a lithograph.
First Edition (1856) and Second Edition ? (1857) consist of 624 pages with approximately 77 full page illustrations (9 of which are major plates), numerous head and tail pieces and 11 folding maps (a complete volume) in 6 3/4 X 10 1/4-inch (cover size) format.
There are 9 major plates:
Prince of Izdu - Opposite first page.


Lew Chew -Opposite page 182


Visit to Shui -- Opposite page 217


Delivering of the Presidents Letter - Opposite page 295


To-Ri-Ga-Sa-Ki, Yedo Bay - Opposite page 312 (litho on page 268 in Unabridged book)


Commodore Perry Meeting the Imperial Commissioners - Opposite page 404


Wrestlers at Yokuhama - Opposite page 430 (litho on page 371 in Unabridged book)


A Japanese Funeral at Shimoda - Opposite page 479 (litho on page 426 in Unabridged book)


Street in Hakodadi - Opposite page 506


The plates are separated from the text by protective tissue.
Typical Illustrations from the Abridged Volume (not all).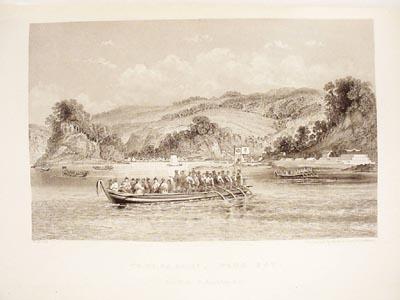 One of the 9 major engraved plates.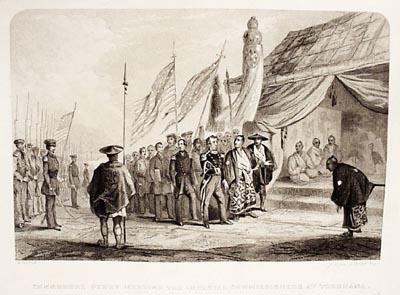 One of the 9 major engraved plates.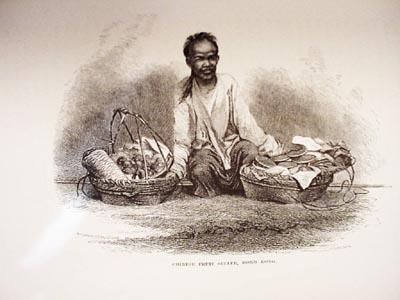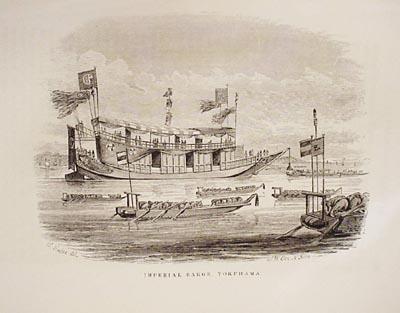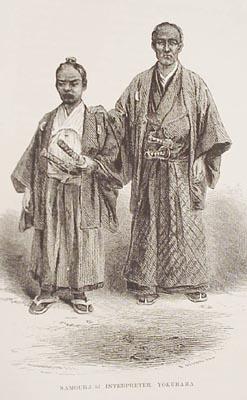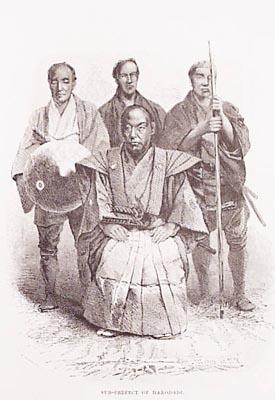 One Volume Abridged Narrative (1856, Appleton).

Narrative of the Expedition
of An American Squadron to the China Seas and Japan
Performed in the Years 1852, 1853, and 1854
Under the Command of Commodore M. C. Perry, USN
By Order Of The Government Of the United States
Compiled From the Original Notes and Journals of
Commodore Perry and His Officers,
At the Request and Under His Supervision
by Francis L. Hawks D.D. LL. D,
With Numerous Illustrations


Published by D. Appleton and Co, 346 & 348 Broadway, New York, 1856. Contents:

Introduction. (1 plate)

I. Name, Extent & Geography (of Japan).
II. Origin of the Japanese people.
III. Government.
IV. Religion.
V. General View of Past Relations: Portuguese, Dutch, English, Russian and United States.
VI. Progress in Industrial Arts. . .
VII. Literature and Fine Arts.
VIII. Natural Production

Chapter I. Depart for Japan (Map of US/Japan Expedition)
Chapter II. Funchal, Canary Island, St. Helena (3 plates)
Chapter III. Rounding the Cape, South Africa (3 plates)
Chapter IV. In Mauritius, to Funchal (5 plates)
Chapter V. Singapore, Hong Kong, Macao, Canton (5 plates)
Chapter VI Macao, Yang-tse-Keang River, Shanghai to Napha (5 plates)
Chapter VII. Isles of Lew Chew, Napha (2 maps, 2 plates)
Chapter VII. Exploration of Great Lew Chew (1 map, 4 plates)
Chapter IX. Palace, Espionage, Depart to Bonin Island (1 plate)
Chapter X. Bonin Islands, Port Lloyd, Departure (1 map, 3 plates)
Chapter XI. Napha, In Lew Chew (1 plate)
Chapter XII. To Japan, In Uraga (1 map)
Chapter XIII. Stay In Uraga, Landing at Japan (1 map, 2 plates)
Chapter XIV. Toward the Capital, Farewell (1 plate)
Chapter XV. Anakiring Island, Tima-Gusko Palace, at Hong Kong (1 plate)
Chapter XVI. Macao, to Napha (6 plates)
Chapter XVII. In Lew Chew, Depart for Yeda (1 plate)
Chapter XVIII. Death of Emperor, Uraga (3 plates)
Chapter XIX. Yokuhama Bay, Chaplain Jones Funeral, Treaty Problems (3 plates)
Chapter XX. Cordiality, Treaty Signed, Exclusions (1 plate)
Chapter XXI. Depart Japan, Social Observations (9 plates)
Chapter XXII. Japanese Current, Hakodadi (2 maps, 1 plate)
Chapter XXIII. Treaty Considerations, Hakodadi Defenses, Nagasaki (15 plates)
Chapter XXIV. Exploration, Disrespect, Hari-Kari
Chapter XXV. Depart Japan, Arrive New York (1 map, 2 plates)
Supplementary Odds and Ends
Appendix. Sailing Instructions
Index

Fly Sheet