~~ Book 1959101122 ~~
This is Okinawa
Blackie Bradford & Willard Howland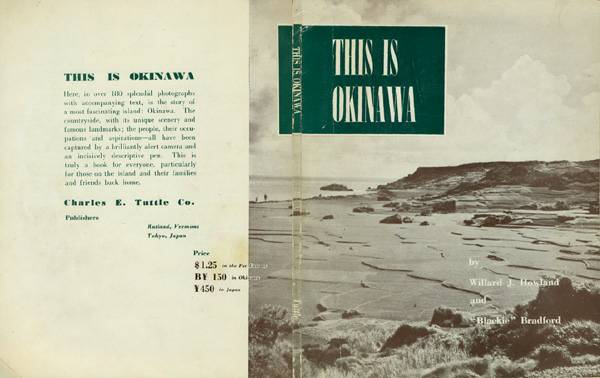 Condition. The book is in Very Good condition. The only major fault is a heavy vertical crease on the front cover. The covers have light soiling. One cover corner is creased and the spine covering has scraped areas. No marking, staining or foxing.

"Blackie" (E. G.) Bradford (photographs)
Howland, Willard J. (text):
Pictures of Okinawa, Tokyo, 8vo (7 1/4 x 9 in), 1959, stated fourth printing, no copyright notice but "All Right Reserved," published by Charles E. Tuttle Co., printed by Obun Printing company, 192 black and white halftone reproductions of photographs, illustrated paper wraps, staple bound internally with cover lightly glued to spine, 71 pp. The photographs are each accompanied by a title and usually a paragraph or two of descriptive text. On the back cover the price is $1.25 in the Far East, 150 B yen in Okinawa and 450 yen in Japan. A photo essay on Okinawa and it's culture in the early to mid-1950s.
An edition with no printing number specified has been reported and this book carries the year 1954, the Tuttle imprint with printing by Kyowa Printing company and a copyright notice. A seventh printing dated 1963 have been confirmed. Both this printing (fourth) and the seventh printing state "First Edition 1954."
For more information on Blackie the Photographer books, click here.