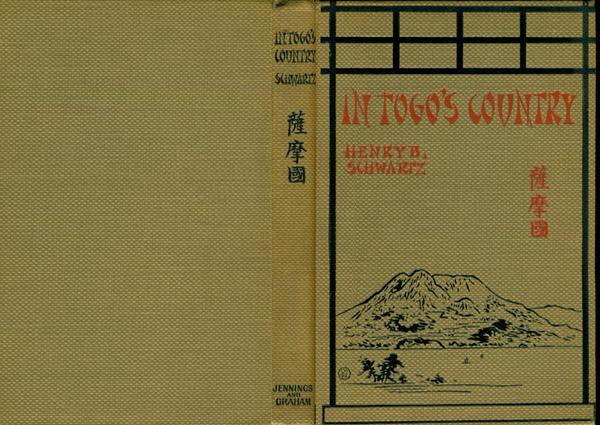 Buy the Book -- To order this set on-line, click here

Condition. The book is in Very Good+ condition. The boards are slightly soiled. The head and foot of the spine are rubbed. The binding is solid with no damage to the hinges. Internally there are no markings, staining or other such faults. A Near Fine book.

Schwartz, Henry B.:
In Togo's Country, Some Studies in Satsuma and Other Little Know Parts of Japan, Cincinnati - Jennings and Graham, New York - Eaton and Mains, 1908, 8vo (5 1/2 x 8 in - 14 x 24 cm), cloth decorated cover (spine and front board decorated), top edge gilt, 15 full plate black and white halftone photographic illustrations and 35 smaller black and white halftone photographic illustrations merged into the text, 233 pp. Schwartz takes the reader on a narrated and illustrated tour of various areas of Japan and it's culture that are out of the main stream for books of this period. Geographic areas covered include Satsuma (Kagoshima), Loo Choo ("A Forgotten Kingdom"), Hirosaki to Akita ("Snow-Clad Japan"), Shimoda (Townsend Harris, First American Consulate) and Nagasaki. Specific cultural matters covered include the Japanese Inn, Japanese Bath, Writing ("Bird Tracks"), Earthquakes and Japan After the War. An interesting and well illustrated view of Japan at the turn of the century. The Okinawa/Loo Choo section is of particular note. It spans approximately 1/5+ of the book (50+ pages and 16 illustrations) and is perhaps one of the most comprehensive discussions of Okinawan history, politics, cultural practices and Christian missionaries (Bettelheims) written at the dawn of the 1900's. A very scarce illustrated account of Okinawa during the Meiji era.


Chapters:

In Togo's Country
A Pilgrimage to Zenkoji
In a Japanese Inn
Writing With Bird Tracks
A Visit to the Scene of an Earthquake
Loo-Choo -- A Forgotten Kingdom
A Tramp Through Snow-clad Japan
The First Consulate in Japan
Nagasaki -- The City by the Jeweled Shore
After the War


Full Page Illustrations (15)
(B&W Halftones on thick paper, printed on one side only):

Admiral Heihachiro Togo (frontispiece)


Villa of the Prince of Satsuma at Kogoshima


Garden of the Prince of Satsuma
The Garter Mission at Saigo's Grave
Tanoura, Kagoshima

Mt. Asama


The Best Rooms in a Japanese Inn

Making Panama Hats in Loo Choo


Graves of American Sailors at Naha


Townsend Harris
Approaching Nagasaki, A Japanese Junk
In Nagasaki

The Osuwa Shrine


Graves at Nagasaki


Higashi-Yama, Nagasaki -- Kwassui Girls'
  School -- American Consulate


Other (text) Illustrations (35):
B&W Halftones merged into text

A Satsuma Pottery
Sakurajima
A Satsuma Camphor Tree
An Ox-Cart
God of the Rice Field
A Satsuma Home
Satsuma Student's Club
Students's Club on Annual Pilgrimage
Graves of the Forty-seven Ronin
A Basha
Japanese Dinner
Japanese Inn
The Landlady in Her Garden
Taking Comfort -- A Hot Bath
Extemporized Hospital in a School-house
After the Earthquake
Completely Destroyed
Slightly Disturbed



---

Okinawa - Loo Choo - Related

---



City Gate in Shuri
 

Banyan Tree
Making Sugar

Loo Choo Woman Weaving


Machi Minato
Market Scene in Naha

Loo Chooan Gentleman


Loo Choo -- Pigs Going to Market

A Loo Choo Woman's Hands


A Tomb-covered Hill


Loo Choo Women at a Shrine -- Naha
The Government Girl's School -- Naha

Temple in Which Dr. Bettelheim Lived
 

A Native Missionary in Loo Choo Traveling
  His Circuit




---



Temple at Kakisaki
Float Carried by One City Ward
Siebart's Monument, Osuwa Park Nagasaki

Collation. Full Title: In Togo's Country, Some Studies in Satsuma and Other Little Know Parts of Japan, Cincinnati - Jennings and Graham, New York - Eaton and Mains, 1908. Frontispiece (Admiral Togo), Title Page (2 pages), Dedication, Contents, List of Illustrations (3 pages), Preface, text/body (numbered pages 15-226), Alphabetical Index of Contents (pages 227-230), Glossary of Japanese Terms (pages 231-233).
Note: It appears that Henry Schwartz was an American Missionary who lived in the Tomari area of Naha, Okinawa from 1908 to 1912.