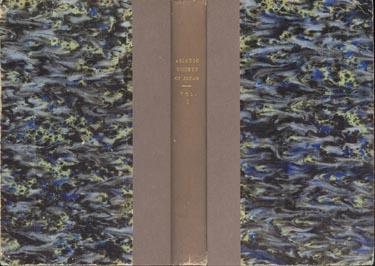 Condition. The book is in Very Good condition. Later marbled boards with cloth spine with lettering in gilt. "Ex Libris Charles E. Tuttle" bookplate and "Issedio" sticker on front inside cover. Edges and corners worn. Corners bumped. Internally very clean. The pages all show three small punch holes. Presumably these were where the two parts were once string tied before binding together to make a complete volume I. The chart of Typhoon routes appears to be an albumen photograph and it has faded to the point where the image is indiscernible.

Satow, Ernest
Griffis, W.E.
Aston, W.G.
Blakiston, Captain
et. al.:
Transactions of the Asiatic Society of Japan, Volume 1, Yokohama, printed at the "Japan Mail" office, published 1874, 8vo, 359 pp. Published in two parts bound into one to form the first volume in this series. The first part covers the period of October 30, 1872 - October 9, 1873. It has 110 numbered pages and contains 5 foldout black and white woodcut plates (related to Okinawa), 2 foldout tables and what appears to be a two page albumen photograph reproduction of chart of hurricane tracts. The second part covers the period of October 22, 1873 - July 15, 1874. It has 249 numbered pages and contains 2 foldout tables. A total of 359 numbered pages, 5 folding illustrations, 4 foldout tables and 1 double page chart.
First Part
Transactions of the Asiatic Society of Japan, from 30th October, 1872 to 9th October, 1873.
Title Page
Contents
List of members
Report of the first annual meeting of the society on October 8, 1873
Financial statement
Details of the contents:

[5 foldout woodblock prints believed to relate to the Loochoo article that follows - pics below]

Notes on Loochoo by E. Satow (1-9)


Immediately following the Narrative of the Perry Expedition to Japan, there was very little in Western language publications relating to Okinawa (Loochoo, Liukiu, Lew Chew, Ryukyus). This is the earliest illustrated article after the Perry Narrative that I am aware of dealing specifically with Okinawa. Satow's article starts with a discussion of the relationship between the Loochoo islands and Japan which he states began with trade in 1451. He then deals with the climate, flora and fauna, dwellings, language, religion, customs, royal dress, every day dress, hair style (knotted on the head), education and burial practices.. He describes the houses as being built "three or four feet from the ground" because of the violent winds which prevail. There is no indication that Satow actually visited Okinawa to prepare the article. It appears to be based on his vast knowledge of all things Japanese supplemented by published works.

The article is preceded by 5 black and white foldout illustrations (see below). While these illustrations are not referenced in the article, it is clear they are provided to provide a visual complement to points in the article.



The Hyalonema Mirabilis by Henry Hadlow (10)
The Streets and Street-Names of Yedo by W.E. Griffis (20-29)
The Geography of Japan by E. Satow (30-51)
The Typhoons of September and October, 1872 Lt-Cmmd Nelson (52-85) [Foldout tables after page 84 titled "Argyleshire" and "Francis Henry" and a fold out faded chart (appears to be an albumen print) of hurricane tracts]
Russian Descents on Saghalien and Itorup in the years 1806 and 1807 by W.G. Aston (86-95)
The Nature of the Japanese language and its possible improvements by F. Edkins (96-110)
Second Part
Transactions of the Asiatic Society of Japan, from 22nd October, 1873 to 15th July, 1874.
Title Page
Contents
List of Members
List of Contributions
Report of second annual meeting held July 15, 1874

Details of the Contents:
Abstract of "Historia Imperii Japonici Germanice Scripta ab Engelberto Kaempfer, Londini, 1727," read by R.G. Watson (1-24)
Itinerary of a Journey from Yedo to Kusatsu, with Notes upon the Waters of Kusatsu, by Leon Descharmes (25-54)
The Sword of Japan: its History and Traditions, by Thomas H.R. McClatchie (55-63)
Constructive Art in Japan, by H. Henry Brunton (64-86)
A Journey to Yezo, by Capatin Bridgford (87-112)
The Shinto Temples of Ise, by E. Satow (113-139)
The Games and Sports of Japanese Children, by W.E. Griffis (140-158)
Winds and Currents in the vicinity of the Japanese Islands, by A.R. Brown (159-173)
Notes of a Journey in Hitachi and Shimosa, by C.W. Lawrence (174-181)
Concerning Deep Sea Soundings, by Captain Belknap (182-197) [Foldout table titled "Journal of Deep Sea Soundings" after page 194]
A Journey in North-East Japan, by Captain Blakiston (198-222)
Has Japanese an affinity with Aryan languages, by W.G. Aston (223-231)
On the increase of Flora of Japan by Dr. Savatier (232-243)
Meteorological Observations, by J.C. Hepburn (244-249) [Foldout table "Monthly and Yearly Average of the Thermometer (1863-1869) after page 244]

Woodcut plates found at the front of Volume I
Not Titles/Lettering (Okinawa/Loochoo related)