Book 1865040717
Hall's Voyages (3)
Embassy to China
Letters from Abroad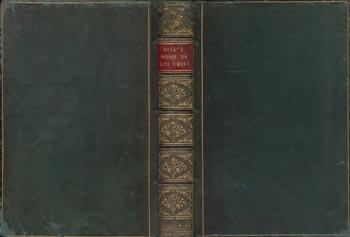 Condition. The book is in Very Good condition. The hinges are strong. Covers have scuff marks and scrapes and the corners are bumped and frayed. Water stain on the first pages but it does not extend into the text portion of the book. Internally the pages are clean and supple with only minor foxing and staining.

This book is a consolidation of five important travel and exploration books of the 19th century. The individual books are the "public" (less expensive versions) of the original books and lack the plates found in the more expensive versions. You often see the books in this format called "paper back" versions. The five books are bound in 19th century morocco with heavily gilt spine (with gilt motif in the compartments and gilt lettering) and all edges gilt. The book is 8vo. The latest date on the title pages is 1865. Each books is paginated separately. Frontispiece map followed by untilted engraved tissue guarded plate by W. Warren. A total of 495+ pages. Since the latest publication date shown is 1865, I believe this consolidated volume was published at approximately that date.

Hall, Basil:
Voyage to Loo-Choo and Other Places in the Eastern Seas in the Year 1816 Including an Account of Captain Maxwell's Attack on the Batteries of Canton and Notes of an Interview with Buonaparte at St Helena, London, William Tegg & Co., 1865, engraved frontispiece, 2 maps, 81 pp. Contains none of the plates found in the earlier editions. Does not contain the appendix.
Frontispiece Map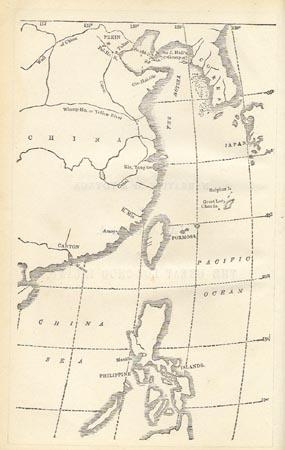 Frontispiece Engraved Plate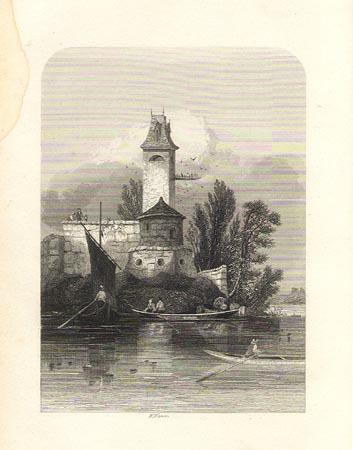 Title Page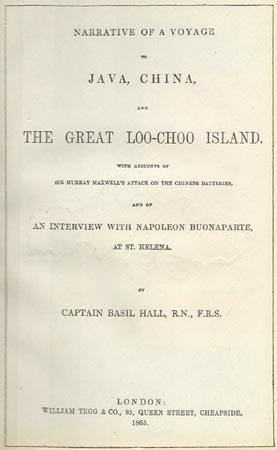 Map of Loo-Choo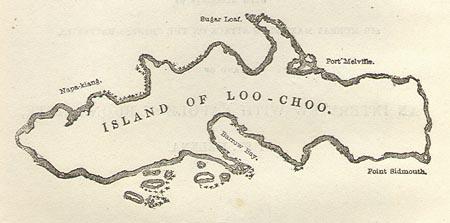 Bound with four other travel and exploration books:
2-3) Extracts From a Journal Written on the Coasts of Chili, Peru, and Mexico, in the Years 1820, 1821, 1822, A New Edition, (Parts I & II), Basil Hall, London, William Tegg & Co., 1851, 77 pp and 80 pp.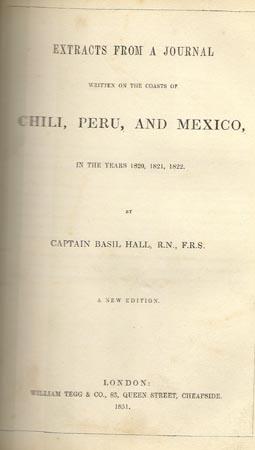 4) Letters from Abroad to Kindred at Home, Catherina Maria Sedgwick, London, Edward Moxon, 1841, 130 pp.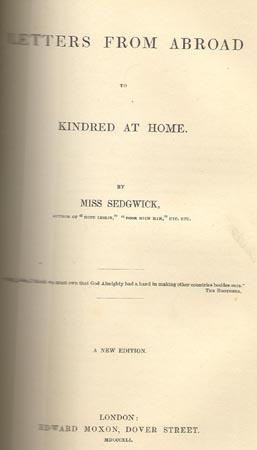 5) Journal of the Proceedings of the Late Embassy to China; Comprising a Correct Narrative of the Public Transactions of the Embassy, of the Voyage to and from China, and of the Journey from the Mouth of the Pei-Ho to the Return to Canton, A New Edition, Henry Ellis, London, William Tegg and Co, 1851, 8vo, frontispiece map, 128 pp. Contains a note dated July 1840 noting "...now given to the public in a cheap form...."