The Commodore Perry
Centennial Issue,
Okinawa, Volume II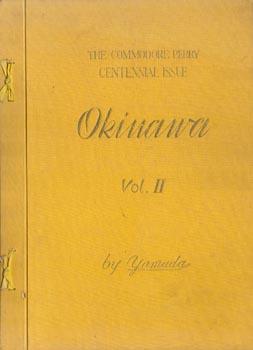 Yamada, Shinzan:
The Commodore Perry Centennial Issue, Okinawa, Volume II, 1853-4, Commemorating 100 Years of Ryukyuan American Friendship, by Shinzan Yamada, Shuri, Okinawa, University of the Ryukyus Foundation, 1953, large 4to (10 1/4 x 13 3/4 in - 26 x 35 cm), 30 numbered pages (60 pages total if you count the backs which have printed text). Yellow cloth with a gold embossed front cover. This book is bound Japanese style with stiff cloth covered boards and ribbon ties. Except for a 2 inch cloth covering at the head and food, the spine is uncovered. The book was issued without a dust jacket. In this book the artist recreates people, places and religious and cultural beliefs as they were at the time of Commodore Perry's visit to Okinawa in 1853.
Mr. Yamada noted in the preface to the book:
The roaring of cannon outside the ports of Uraga and Naha has proved to have been the alarm bell that awakened people of isolated Japan and the Ryukyus from idle slumber. It is the responsibility of the present Ryukyuan people to regard the memory of Commodore Perry with respect and affection, for in so doing we are contributing to mutual friendship between the Ryukyus and United States of America, as well as to the cause of world piece.
This edition has a total of 30 (14 color & 16 black and white - duo tone) illustrations which are half-tone reproductions of Shinzan Yamada's art. Each picture is on a page and has descriptive text in English below the picture. On the back of the preceding page the descriptive text for the picture is in Japanese. When the book is open to a picture, you see the image on the right with the English descriptive text and the Japanese text on the left. In this, the second volume of a two book set, the illustrations are tipped (printed on separate paper that is glued to the page) to the pages. In the first volume of this set, they were printed directly on the page.
In this book, you sometimes find supplemental English and Japanese language descriptive text on rice paper inserts. I have seen inserts for the pictures listed at pages 12 (A Girl in Kasuri Dress), page 22 (The Tattoo - Hajichi), page 23 (The King's Crest) and page 26 (Dragon Ship - Haryusen).
This is the second of two books by Mr. Yamada. The first was titled Okinawa, Her Beauties and Traditions, No 1. For information on Volume I, click here.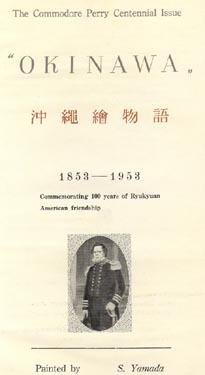 Here is a listing of the pictures:
Commodore Perry - black and white

The Beautiful Island Opened Before Their Eyes - color
The Islanders being Startled by the Great Ships - color

Naha Port - color

The Sending off of the Presents - color

The Market in Naha - color

Bazaar - color

Preparation of the Vehicle - black/white

The Visit to Shuri Castle - black/white

The Landing at Tomari Port - black/white

Exploration Party - color
A Girl in Kasuri Dress - color

Spinning Women - black/white

The Parrot Fish - black/white

Prayer for Peace - color

Mortar - black/white

Construction of Coal Depot - black/white

Kroton - black/white
Makiminato - black/white

Old Regent - color
(Mabuni Anji)

Okinawan Fishermen - black/white

The Tattoo - black/white

The King's Crest - color

The Boy's Fishing - black/white

Roofed Gate - black/white

Dragon Ship - color

The Buddhist Heaven - color

The Buddhist Hell - color

The God of Wind - black/white
The God of Lightening - black/white

Colophon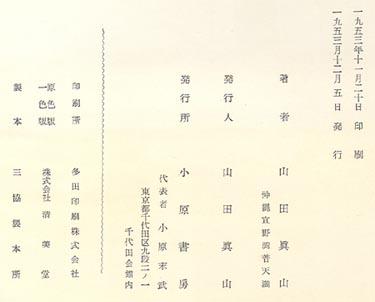 Printed: 1953.11.20
Distributed: 1953.12.5

A Note Regarding "Typical" Condition. The covers of these books (Volume 1 and 2) are generally found faded and with water stains and similar damage. They are your typical "coffee table" book and more often than not show evidence of that type use. Also, it is normal for the front and back end papers to be heavily toned/foxed. In technical terms, I would say the average cover would grade "Good" and the contents "Very Good - Fine." In my opinion, a book that grades Fine (covers and content) would command a significant premium in pricing.
Rice Paper Insert Accompanying
A Girl in Kasuri Dress (at page 12)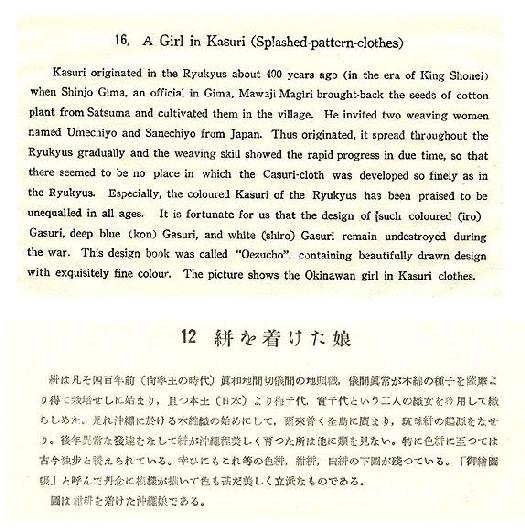 Shinzan Yamada
1885-1977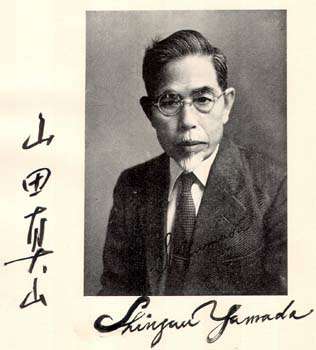 Mr. Yamada as Pictured in the Book (Vol. 1)
with Signatures in Japanese & English.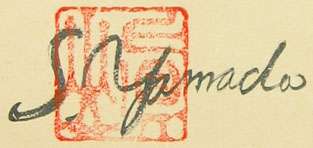 Mr. Yamada Signature (English) in Red Over His
Personal Han (Seal). The Han is Seldom Seen.

Mr. Shinzan Yamada was one of Okinawa's foremost artists. Mr. Yamada is probably best known for his 18 year labor to create a "Tsuikin" lacquer statue (12 meters high by 8 meters wide) as a peace memorial and tribute/honor toward those that died in World War II on Okinawa. Mr. Yamada began the project at the age of 72 and completed it when he was 90+ years old. The statue, known as "The Prayer for Peace Statue," is located in the Heiwa Memorial Hall on Mabuni Hill in southern Okinawa.
Scott 27-8 - Perry Centenary



Designed by Shinzan Yamada
Shinzan Yamada contributed many stamp designs for Ryukyu Islands stamps and postal cards. He is designed the following stamps/post cards:
Scott C4-8, 1951-4, Heavenly Maiden, 2nd airmail series
Scott 27-8, 1953, Perry Centenary commemorative set
Scott C9-13, 1957, Heavenly Maiden Playing a Flute, 3rd airmail series
Scott 55, 1958, Lion Dance, New Year stamp for 1959
Scott C24-8, 1961, Wind God, 6th airmail series
Scott 92, 1961, Sun & Eagles, New Year stamp for 1962
Scott UX18, 1961, Coral, Summer Greetings Card for 1961
Scott UX21, 1962, Ie Shima, Summer Greetings Card for 1962
Scott UX26, 1964, Bitter Melon, Summer Greetings Card for 1964
Minoura Sera in his Ryukyus Handbook, Philatelic and History, 1962, noted that Shinzan Yamada opened a studio in Ginowan after WWII. I believe the photograph below by Blackie the Photographer shows that studio. Sera noted that Shinzan Yamada is considered the "elder statesman of Ryukyuan Art."
A photograph of Shinzan Yamada at work taken by Blackie the Photographer which was published in his (Blackie's) book This is Okinawa, ca 1954.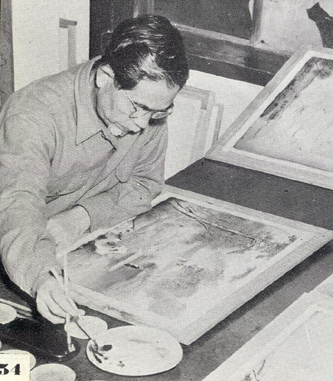 Another photograph of Shinzan Yamada and his studio by Blackie the Photographer which was published in his (Blackie's) book Pictures of Okinawa, ca 1953.