Graphic Scenes of the Japan Expedition
William Heine - Lithograph
Plate #3 - Wampoa (Whampoa) Pagoda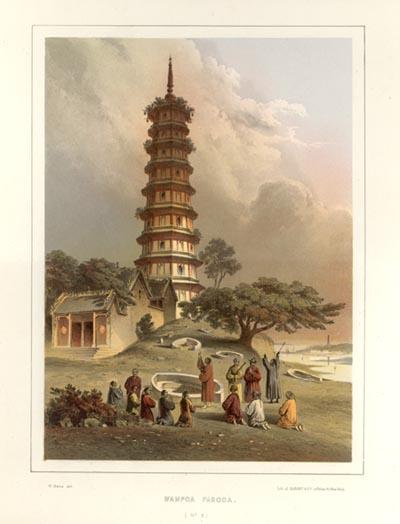 Click the picture for image
of complete lithograph
This is Plate #3 from the very limited edition book by William Heine that was published in 1856. The lithograph is printed on thick card. These prints are approximately 40% larger than those that are published in the Narrative of the Expedition. This print is in color. I am not sure if it was hand colored or a chromolithograph (color created in lithographic process). These prints are much finer and of higher quality than those published in the Narrative of the Expedition.
This lithographs measures:
Image Area: ca. 8 5/8 x 12 1/4 in (22 x 31 cm)
Sheet Area: ca. 15 x 18 1/4 in (38 x 48 cm)
I have personally handled these lithographs in two formats. I call them Type I and II formats. The Type I format lithographs are on high quality paper and tipped to bristol board. The type II format lithographs are not tipped onto board but entirely on one high quality thick card stock plate. This lithograph is a type II format. For more information on the two types, see below.
For more information on the book containing these prints, Graphic Scenes of the Japan Expedition by William Heine, click here
The titles/lettering read:
W. Heine del.
Lith. of. Sarony & Co., 117 Fulton St. New York.
Wampoa Pagoda - (No. 3)


Condition. Overall the lithograph is in excellent condition (Very Good++). No staining or foxing in the image area. The image is sharp and crisp. The margins are lightly toned with some minor staining and foxing. All four couners are bumped and rounded. There are two small tears (less than 10 cm) in the right margin. On the left side there is a torn area about 10 x 10 cm. On the left side two pieces of mounting tape are still affixed.
A similar lithograph appears in the Government printed Narrative of the expedition. Below is a comparison of the Graphic Scenes lithograph and the similar lithograph in the Narrative.

This is a Type II Format Lithograph - Format Types:
Type I - Lithograph printed on separate sheet tipped onto to bristol board. Title to the lithograph is printed on the board and not the lithograph. Format confirmed with #10, Graveyard at Simoda Dio Zenge (colored).

Type II - Entire lithograph (including title) printed on heavy card stock plate. The image side of the plate has a flat mat type finish and the back has a glossy/polished finish. Format confirmed with #3, The Pagoda of Wampoa (colored).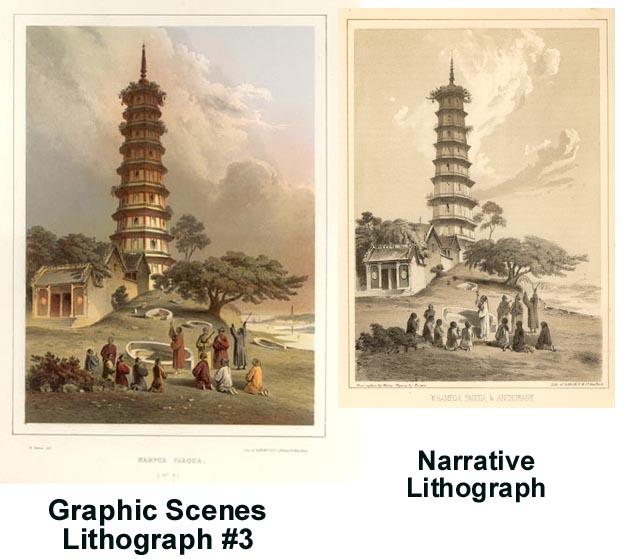 A more detailed close-ups view from the two lithographs is below.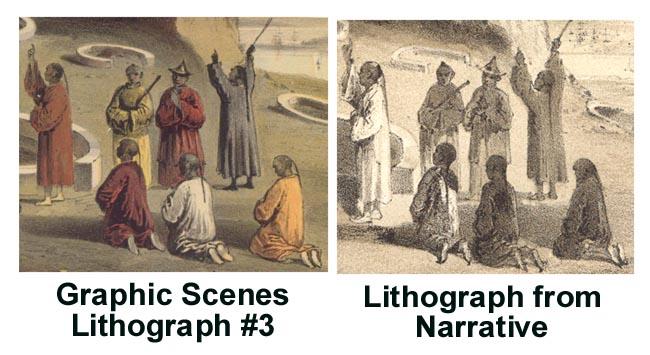 For a more detailed view of the close-up views, click here.
Price: $1,250.00
(Includes Copy of Same Image from Narrative of the Expedition)

<!/--Dimensions -->

Terms & Conditions.
Payment with Order. US Dollar Check or Money Order Payable by a Bank in the US or PayPal Payment.


Postage (US Postal Service) and Insurance: $6.00 within the US; $18.00 outside the US (Outside US at Buyer's risk of loss in mail). Additional postage applies when framesets are ordered or where shipment is to an address outside the US.


Discounts (Based on Order Filled): Over $500 - 10% Over $1,000 - 15% - Discounts do not apply to frame sets. They are priced net.


New Mexico sales (gross receipts) tax is due when applicable.