Travels in Europe, Africa, and Asia, Vol III
Voyage to Japan in the Years 1775-1776
by Charles Peter Thunberg
3rd Edition, 1796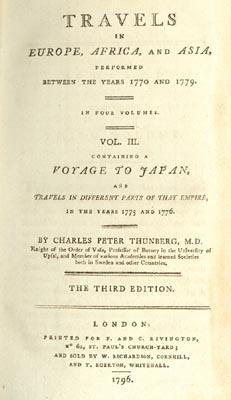 Title Page

Thunberg, Charles Peter
Travels in Europe, Africa, and Asia, Performed Between the Years 1770 and 1779, in Four Volumes, Vol III. Containing A Voyage to Japan and Travels in Different Parts of that Empire in the years 1775 and 1776, London, Rivington, 1796, large 12 mo (5 x 8 in), 3nd English Edition. Volume 3, of the 4 volume set, deals with Dezima, Nagasaki, Jedo, Odowara and other places in Japan (Volume 3 - 285 pp + 13 pp - Index, + 31 pp - Vocabulary). The author, Charles Peter Thunberg (1743-1828), was Professor of Botany at Uppsala, student of Linnĉus and surgeon to the Dutch East India Company. The first volume deals mainly with South Africa, the second with the East Indies, the third Japan and the fourth Japan and the East Indies. This set is referred to as the 3nd English edition. There are two earlier English editions one published by Richardson and the other by Rivington. The English editions are translations from a Swedish 1st edition. Thunberg's writings were first published by the Royal Society of London in it's Philosophical Transactions, No. 70 (1780) at pages 143-56; Appendix, i-vii. Thunberg's accounts, particularly volume 3, probably provided the best accounts of Japan at the time they were published.

Contents of Volume III.
Preface to the Third Volume
Preface of the Translator
A Voyage to Japan, 1775 [departed Batavia to Japan June 20, 1775]
Arrival at Japan, 1775 [arrived Dishima August 14, 1775]
Nagasaki Harbour, 1775
Nagasaki Harbour and Dezima Factory, 1775
Japanese Interpreters, 1775
Dezima, 1775
Dezima, 1775. Dutch Commerce
Dezima, 1775. Chinese Commerce
Dezima, 1775. Nagasaki Harbour
Dezima, 1775
Dezima, 1776
Dezima and Nagasaki, 1776
Journey to the Court in 1776 [departed March, 1776]
Journey to the Court. Nagasaki, 1776
Journey to the Court. Isafaia, 1776
Journey to the Court. Swota, 1776
Journey to the Court. Itska, 1776
Journey to the Court. Utsini, 1776
Journey to the Court. Kokura, 1776
Journey to the Court. Simonoseki, 1776
Journey to the Court. Kaminoseki, 1776
Journey to the Court. Fiogo, 1776
Journey to the Court. Osaka, 1776
Journey to the Court. Jodo, 1776
Journey to the Court. Fusimi, 1776
Journey to the Court. Miaco, 1776
Journey to the Court. Gits, 1776
Journey to the Court. Seki, 1776
Journey to the Court. Kwana, 1776
Journey to the Court. Mia, 1776
Journey to the Court. Josida, 1776
Journey to the Court. Oygawa, 1776
Journey to the Court. Fakonie, 1776
Journey to the Court. Minagawa, 1776
Journey to the Court. Jedo, 1776 [arrived on April 27, 1776]
Return from Court. [departed Jedo May 25, 1776]
Return from Court. Odowara, 1776
Return from Court. Miaco, 1776
Return from Court. Osaka, 1776
Return from Court. Fiogo, 1776 [arrived Dishima June 30, 1776]
The Nature and Properties of the Country
Persons of the Japanese
The Genius and Disposition of this Nation
The Japanese Language
The Name
Their Dress
The Stile of Their Architecture
Furniture
Index
Vocabulary of the Japanese Language