Frame Sets for Your
Perry Expedition Lithographs
Conservation/Archival Quality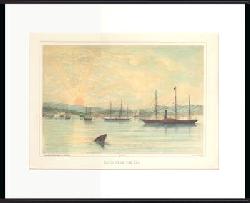 One of the many pleasures of owning these historical lithographs is displaying them and sharing them with others.
Depending on the value and rarity of a particular item, there are two basic choices for displaying framed material.
For higher value lithographs/art, conservation framing should be considered. Conservation framing, simply put, means using acid free materials in the framing process. Additionally, conservation glass helps protect the lithograph/art from fading. While conservation framing is more costly than traditional framing, it will protect the value of your lithograph.

For inexpensive items, traditional framing should be considered because the cost is substantially less than conservation framing. Many collectors are hesitate to spend a substantial amount of money to frame a lithograph of nominal value. Material mounted with non-archival materials will tend to degrade over time due to the impact of light and interaction with the mounting material.
Another consideration for lithographs is the framing "kit" concept. The cost for a kit can be substantially less than custom framing at a commercial shop. A kit will normally include the frame (which you must assemble), pre-cut mats, backboard, and glass or plexiglass.

Archival/Conservation Framing.
a. Archival quality items such as these lithographs can easily be framed for display. The use of high quality, acid-free, mat board is recommended. In general, paper objects should be framed using a window mat. Window mats provide space between the surface of the artwork and the glass of the frame to prevent the work of art from becoming stuck to the glass surface.
b. The lithograph should be attached to the mat board using only acid-free paper hinges and high-quality adhesives or archival quality corner mounts. Staining can be caused by contact with acidic or other poor quality materials, such as scotch tape or rubber cement.
c. The use of ultra violet filtering glass or plexiglass in frames will help to reduce damage from UV light.
Frame Sets for the Perry Lithographs

General Comments. The Perry lithographs are on a paper/plate size which is generally 23 x 29 cm (9 x 11 1/2 in). The image sizes vary from lithograph to lithograph but an average size is 15½-16 x 22½-23 cm (6 x 8 1/2 in).
Archival Standards. In composing a frame set, I have selected components that meet archival storage/display standards. This will minimize damage to the lithograph due to mounting and display.
Standard Frame Set - 11 x 14 in. To mount lithographs with the above page size and image size, I have selected 11 x 14 in as the standard frame set size. Below is the standard frame set I am offering.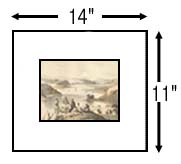 Mat board. The mat board is the support for the lithograph. It is 11 x 14 in and an archival foam board. We use Acid-Free Fome-Cor© brand. This is composed of an inert extruded core with white barrier paper and has a 7.5 to 8.5 pH, buffered with calcium carbonate.

Mat (Window Opening). This is the component of the set that frames the lithograph and masks the margins. The open area of the mat is pre-cut. The image area (cut-out portion) of the mat is a standard 8 1/4 x 10 3/4 in - 21 x 27.1 mm). If you require a custom fit mat, then you will have to obtain that separately or we can do that for you but there will be an additional charge of $10.00. The mat color is a standard off-white. Mats are acid free and archival quality. The lithograph will be attached to the mat with acid free archival hinging tape or archival quality corner mounts.

Acrylite© OP3 (plexiglass in lieu of glass). External protective layers of the plexiglass filter out harmful ultraviolet rays.

Frames. The frame set is a standard black aluminum frame set (Nielsen Aluminum Frames - Style #105).


Nielsen Style #105

It includes the four side frames and the appropriate mounting kit. This is a basic but attractive frame unit. If you prefer, the lithograph can be shipped with the frame set unassembled with the mounting kit provided for you do the final assembly. Instructions are included and it takes less than 5 minutes to assemble the frame and mount the lithograph. I recommend shipment unassembled to reduce the risk of damage in transit. At your request, I will assemble the frame set for you and ship it that way.

Here are the prices (including extra for postage - US only).

$40.00 Full Frame Set (all the above) - w/ Standard Mat.

$52.00 Full Frame Set (all the above) - w/ Custom Cut Mat

$32.00 Standard Set Minus the Frames (You purchase your own 11 x 14 in frame for mounting).
Examples of Framed (Custom Cut Mats) Lithographs
Perry's Visit to Shuri Castle - #189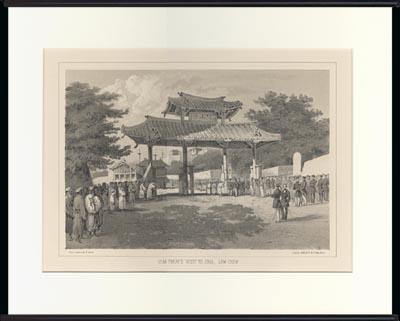 For large image, click here

Napha (Naha) from the Sea - #309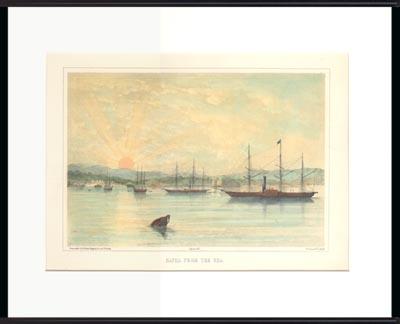 For large image, click here
Storing unmounted lithographs.
Do Use - For Archival Storage
Polyethylene - A chemically stable, highly flexible, transparent or translucent plastic. Used in preservation to make storage sleeves. Unframed lithos are shipped to you in a polyethylene sleeve.
Do Not Use - For Archival Storage
Polyvinyl Chloride (PVC) - A plastic, often abbreviated as PVC. It is not as chemically stable as some other plastics, since it can emit hydrochloric acid (which in turn can damage materials) as it deteriorates, and therefore has limited application in the preservation of books and paper. Some plastics called vinyl may be polyvinyl chloride.