Japanese Fragments
by Captain Sherard Osborn, C.B.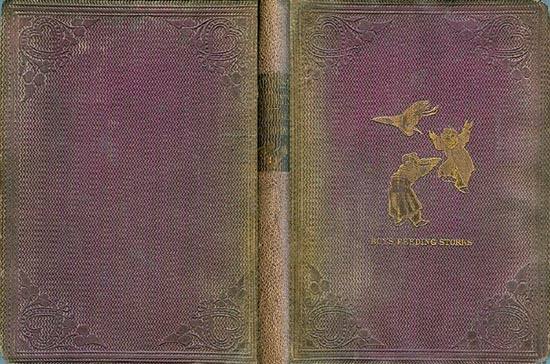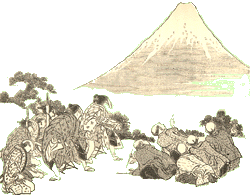 Osborn, Captain Sherard:
Japanese Fragments. With Facsimiles of Illustrations By Artists of Yedo, London, Bradbury & Evans, 1861, large 12mo (5 3/4 x 7 1/2 in - 14.5 x 18.8 cm), purple blindstamped cloth boards with gilt vignette (boys feeding storks) on front board and gilt lettering and decoration on spine, gilt edges, 6 color woodblock plates, 11 black and white woodblock engravings and 6 woodblock text illustrations, 139 pp. Japanese history with focus on foreign contacts with Japan. Said to be one of the earliest appearances of Hokusai and Hiroshige color prints in any Western publication.
Title Page


Table of Contents

CHAPTER I.

THE FIRST KNOWLEDGE OF JAPAN BY EUROPEANS 
-- KUBLAI KHAN'S ATTEMPT TO INVADE IT
-- JAPAN ORIGINALLY SUBJUGATED BY CHINESE COLONISTS
-- SIN-FUH THE MUST RULER OF JAPAN 
-- THE THEOCRACY HE ESTABLISHED ENDS 100 TEARS 
        BEFORE KUBLAI KHAN'S INVASION ..........   1

CHAPTER II.
GEOGRAPHICAL RESEMBLANCE TO THE BRITISH ISLES
-- FEUDAL FORM OF GOVERNMENT
-- CHARACTER OF THE JAPANESE PEOPLE ...........   16

CHAPTER III.
JAPANESE NAUTICAL ENTERPRISE
-- EARLY EUROPEAN INTERCOURSE
-- H(C)RISTANITY INTRODUCED WITH GREAT SUCCESS .   26

CHAPTER IV.
REACTION AGAINST CHRISTANITY
-- PERSECUTION AND EXPULSION OF EUROPEANS
-- THE EMPEROR TAIKO-SAMA  .....................   40

CHAPTER V.
EARLY DUTCH AND BRITISH INTERCOURSE
-- INFLUENCE OF WILLIAM ADAMS
-- THE ENGLISH TREATY WITH JAPAN OF 1613........   56

CHAPTER VI.
A DAY'S JOURNEY BETWEEN YEDO AND MIACO
-- EVERY-DAY LIFE IN JAPAN .....................   78

CHAPTER VII.
CONTINUATION OF THE JOURNEY, AND SCENES BY WAYSIDE 94

CHAPTER VIII.
SUMMARY OF THE OPENING UP THE JAPANESE EMPIRE 
TO EUROPEAN INTERCOURSE IN THE PRESENT  DAY ....  116


LIST OF COLOURED  PLATES.
 
VIEW OF YEDO BAY FROM THE HILLS OVER KANAGAWA     Frontispiece
2. LABOURERS TRANSPLANTING RICE IN THE RAINS       18
3. FISHING BOATS AT SEA                            31
4. VIEW OF A WATERFALL, SEEN BETWEEN 
     CLOUD AND SPRAY                               79
5. RETINUE OF A GRANDEE CROSSING A FORD           112
6. SCENE ON A BRIDGE                              129


Full Page Color Woodblock Plates (6 in Total):

Full Page Black and White Woodblock Illustrations (11 in Total):
Travellers First Sighting Fusi-hama


Pilgrims Ascending Fusi-hama


A Party Crossing a Ford


A Japanese Lady ....


A Japanese Hero in the Rain Taking Off His Hat ...


Wayside Scene


Reapers Enjoying Their Meal at Haravest-Time


Horse Breaking in Japan


"How Soldiers Are Fed in Nipon!"


Fishermen Catching Boneta, or Large Mackerel


A Japanese Inn or Tea-House


Text Illustrations (6 in Total):
Doctor Examining the Tongue of a Patient

Fusi-hama Seen Through the Rain

Bikuni

Head of A Felon, and Excecutioner Declaring His Crime

"Soldiers Arming Themselves After Peace"

Boys Struggling with Live Ells
---