Ayame-san, A Japanese Romance
of the 23rd Year of Meiji (1890)
by James Murdoch, Photos by W.K. Burton,
Photos Reproduced by K. Ogawa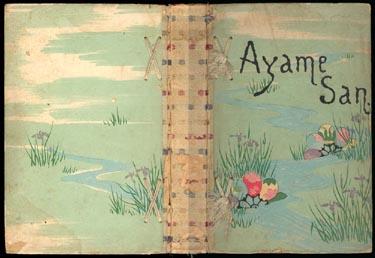 James Murdoch, M.A.
Burton, W.K. (Photographs)
Ogawa, K (Photo-mechanical process reproduction of Photographs):
Ayame-san, Japanese Romance of the 23rd Year of Meiji (1890) , Yokohama, Kelly & Walsh, 1892, paper pictorial boards and silk spine and cords, 8vo (6 x 9 in), illustrated by photographs taken W. K. Burton and produced by K. Ogawa, 77 text illustrations (photographs reproduced by K. Ogawa), 3 of the 77 are full page, 310 pp + 2 pp errata.
James Murdoch (1856-1921). Murdoch first traveled to Japan in 1889 where he worked as a teacher in a series of high schools around the country. In 1893 Murdoch left Japan for Paraguay but he later returned. Although he did not begin to study Japanese until he was almost 50, he eventually became proficient in both modern and classical Japanese. He returned to Australia in 1917 and passed away in 1921. Murdoch is best known for his three volume A History of Japan (London, Kegan, Paul, Trench, Trubner & Co., 1926).
Concerning the illustrations, the following comment is provided immediately after the title page:
I beg to acknowledge my indebtedness to Mr. K. Ogawa for some of the best illustrations in the volume; also to Professor C.D. West of the Imperial University and to Mr. G. Brinkworth for one photograph each. So far as I am aware this is the first book that has been illustrated with true half-tone photo-mechanical reproductions printed with the letter-press.

Listing of Illustrations (no titles, description is mine) I believe the illustrations were produced by the collotype process.

     Page




   1     Sea and Land

   8     Sea

  10     Sailing Ship

  14     Sea

  15     Cliffs

  18     Sumo Wrestlers

  19     Sail boat

  23     Sails vessels in harbor

  26     House

  33     Sails vessels

  35     Sails vessels, children in water

  38     Mount Fuji

  40     Giant Buddha

  44     Sea and small island

  45     Boy with a large crab mounted on board

  48     Young woman with mirror

  52     Three young women dancing

  57     Sail boat in small bay

  58     Three young women

  62     Tree lined pond

  63     Pond with stone bridges

  64     Interior of house, vase with flowers -- Full Page Plate

  68     Three ladies dancing

  69     Lady in kimino  -- Full Page Plate

  74     Three ladies bowing

  80     Pine tree overlooking bay

  82     Sails vessel, Japanese style

  84     Male archer

  90     Three young women

 102     Small Japanese sail boat on lake

 106     Woman on balcony overlooking houses with grass roofs

 109     House with grass roof

 122     Three young women dancing

 124     Old man on horse

 133     Swords mounted on display rack

 137     Street scene

 138     Road with wagons

 138     Temple

 142     Woman playing koto

 145     Public field

 151     Japanese sailing vessel

 162     Two women on balcony over looking village

 164     Village

 166     Village with stream in foreground

 178     Japanese woman with koto in background

 184     Mount Fuji

 186     Steam rising from hot springs

 194     Man fishing for shore of lake

 200     Three women

 207     Mount Fuji -- 3/4 of a Page Plate

 211     Young woman

 219     Street scene

 221     Street scene, almost identical to previous photograph

 222     Three women at temple

 223     Young woman reading

 225     Shampooer" massaging young woman

 233     Lake

 238     Old man/woman smoking -- 1/2 Page Plate

 239     Mount Fuji with lake in foreground

 246     Young woman, portrain in profile -- 3/4 of a Page Plate

 247     Three young women dancing

 251     Young woman

 259     Crowd in street

 260     Castle in Tokyo

 261     Street scene with children

 262     Temple

 268     Street scene with banners

 275     Three women standing by a jinrickshaw with male driver

 279     Three women dancing

 283     Mount Fuji with lake in foreground - 1/2 of a Page Plate

 284     Four women, musical instruments

 285     Boys in street scene

 286     Woman bowing

 292     Young woman

 299     Man with ox and cart

 304     Mount Fuji

 310     Young man - Full Page Plate