Graphic Scenes of the Japan Expedition
William Heine - Lithograph
Plate #10 - Graveyard at Simoda Dio Zenge
(Tinted Tipped on Bristol Board - Folio Print)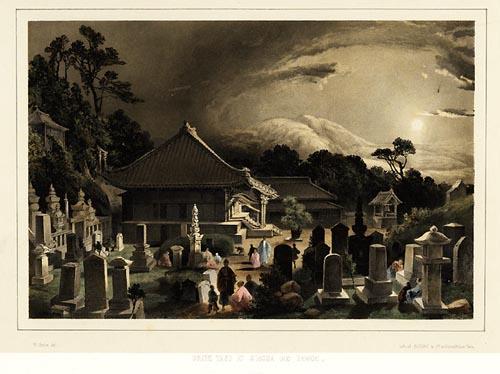 Click the picture for image
of complete lithograph
This is Plate #10 from the very limited folio of lithographs produced by William Heine and published in 1856. The lithograph is printed on fine wove paper and mounted (tipped) on bristol board which has the title printed on it. These prints are approximately 40% larger than those that are published in the Narrative of the Expedition. This print was color tinted in the lithographic process. These prints are much finer and of higher quality than those published in the Narrative of the Expedition.
This lithographs measures:
Image Area: ca. 10 x 13 1/4 in
Sheet Area: ca. 13 1/8 x 18 1/4 in

The title and number is prionted drictly on the board, not the lithograph.
For more information on the book containing these prints, Graphic Scenes of the Japan Expedition by William Heine, click here.
This print is a folio print of the same prints found in the above book. These prints are on bristol board and slightly higher quality than the book prints. The folio prints sold for two time the price of the book.
Commodore Perry visited the newly opened port of Simoda on the 18th of April, 1854. He remained there until the 9th of May. The Narrative described Simoda as a town of approximately 1,000 houses and 7,000 inhabitants located on a small island near the mouth Yedo Bay. While the town appeared to the expedition members to be impoverished and lacking significant trading facilities, they were impressed with its beauty and cleanliness.
The titles/lettering read:
W. Heine del.


Lith. of. Sarony & Co., 117 Fulton St. New York.


GRAVE YARD AT SIMODA DIO ZENGE. - (No. 10)


Condition. Overall the print is in excellent condition. There is faint water stain in the left margin of the mounting card and some very light overall foxing.

This is a Type I Format Lithograph - Format Types:
Type I - Lithograph printed on separate sheet tipped onto to bristol board. Title to the lithograph is printed on the board and not the lithograph. Format confirmed with #10, Graveyard at Simoda Dio Zenge (colored).

Type II - Entire lithograph (including title) printed on heavy card stock plate. The image side of the plate has a flat mat type finish and the back has a glossy/polished finish. Format confirmed with #3, The Pagoda of Wampoa (colored).
Price: $1,200.00

<!/--Dimensions -->

Terms & Conditions.
Payment with Order. US Dollar Check or Money Order Payable by a Bank in the US or PayPal Payment.


Postage (US Postal Service) and Insurance: $6.00 within the US; $18.00 outside the US (Outside US at Buyer's risk of loss in mail). Additional postage applies when framesets are ordered or where shipment is to an address outside the US.


Discounts (Based on Order Filled): Over $500 - 10% Over $1,000 - 15% - Discounts do not apply to frame sets. They are priced net.


New Mexico sales (gross receipts) tax is due when applicable.