Japan, An Attempt at Interpretation
by Lafcadio Hearn, 1st Edition
Printing of September 1904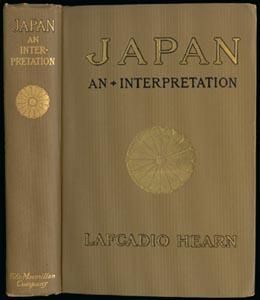 Hearn, Lafcaido (Koizumi Yakumo):
Japan, An Attempt at Interpretation, New York, The Macmillan Company, 1st Edition, 1st Printing (September 1904), large 12mo (5 1/2 x 8 in - 14 x 20 cm), light brownish-green cloth with gilt and black lettering and gilt device (chrysanthemum), top edge gilt, color tissue guarded frontispiece, bibliography, index, 2 pages of publisher's advertsements, 541 pp. Hearn (June 27, 1850 - September 4, 1904), considered by many to be one of the greatest Western writers of Japanese subject matter, died just prior to the publication of this final and perhaps best known work. He had lived the last 13 years of his life in Japan, immersing himself completely in Japanese culture. He became a naturalized Japanese citizen. Hearn's writings are a window to a time when Japan was changing rapidly under the influence of the West and his interpretation of the Japanese culture remains highly relevant.
This book may be available. Please check our price list by clicking here.
Frontispiece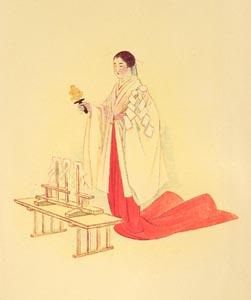 The book contains the following 22 chapters :
I. Difficulties
II. Strangeness and Charm
III. The Ancient Cult
IV. The Religion of the Home
V. The Japanese Family
VI. The Communal Cult
VII. Developments of Shinto
VIII. Worship and Purification
IX. The Rule of the Dead
X. The Introduction of Buddhism
XI. The Higher Buddhism
XII. The Social Organization
XIII. The Rise of the Military Power
XIV. The Religion of Loyalty
XV. The Jesuit Peril
XVI. Feudal Integration
XVII. The Shinto Revival
XVIII. Survivals
XIX. Modern Restraints
XX. Official Education
XXI. Industrial Danger
XXII. Reflections
Biographical Notes
Index
Publisher's Ads