Commemorative Pamphlet
Commodore Perry's
Visit to the Ryukyus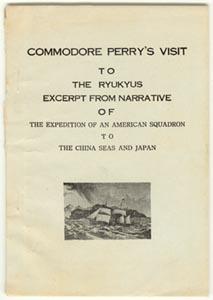 Asato, Genshu
Commodore Perry's Visit to the Ryukyus, Except from Narrative of the Expedition of an American Squadron to the China Seas and Japan, Compiled in Commemoration of Perry Centennial, Okinawa, Ryukyu Kokusai Shinbun - Okae Fujihara, 1953, paper wraps, 12mo (5 x 7 1/2 in), 45 pp (39 numbered pages and portrait of Perry and 5 pages reproducing lithographs for the Narrative). The contents are verbatim extracts from the original Narrative of the Expedition found in Chapters VIII and IX. This covers the time period from Perry's arrival on Okinawa on May 26, 1853 through the visit with the Regent of Lew Chew at Shuri Castle on June 6, 1853. The back cover has a paste down label stating "Approved by USCAR on May 25, 1953."
Title Page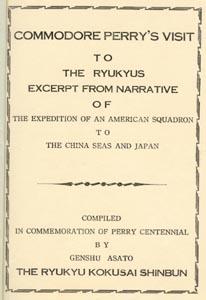 Paste Down Label