Tatsnoski, Second Interpreter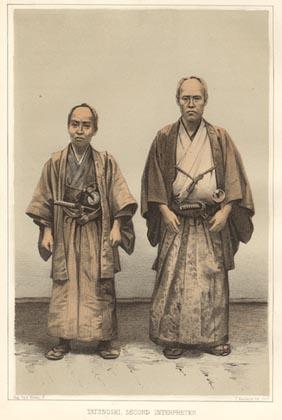 Click the picture for image
of complete lithograph
In this lithograph two interpreters for the Expedition are depicted. One is Moryama Yenoski (the chief interpreter). The other is identified as "Tatsnoski." This lithograph appears a section in the Narrative where Commodore Perry was greatly disturbed about what he believed to be price gouging (my term not his) by Japanese merchants in Shimoda. The Narrative noted that "...Yenoske then assumed, in behalf of himself and his fellow-interpreter, Tatsnoske, the whole blame, not only in regard to the spars, but the exorbitant prices and all wrongs which had given rise to the complaint." It was subsequently noted that the matter was resolved to a "perfect reconciliation." <!narrative-p485>
There is another picture of the chief interpreter, in lithograph 385, Chief Interpreter Yenoski and Tako_Juro, Interpreter.
The titles/lettering read:
Dag by E. Brown, Jr.
T. Sinclair's lith, Phila
TATSNOSKI, SECOND INTERPRETER
Very clean. Small water stained area in bottom left margin.
Portrait Format
Page Size (cm): 28.6x22.2cm
Image Size (cm): Width-23.5, Height-15.9, Diagonal 28.3

<!/--Dimensions -->
Attribution: This lithograph has been positively confirmed to be from the Beverley Tucker, Senate Printing (1856), of the Narrative.

Terms & Conditions.
Payment with Order. US Dollar Check or Money Order Payable by a Bank in the US or PayPal Payment.


Postage (US Postal Service) and Insurance: $8.00 within the US; $34.00 outside the US (Insured Priority Mail).


Discounts (Based on Order Filled): Over $500 - 10% Over $1,000 - 15% - Discounts do not apply to frame sets. They are priced net.


New Mexico sales (gross receipts) tax is due when applicable.