Dinner Given to the Japanese
Commissioners on Board
the USSF Powhatan (Type I)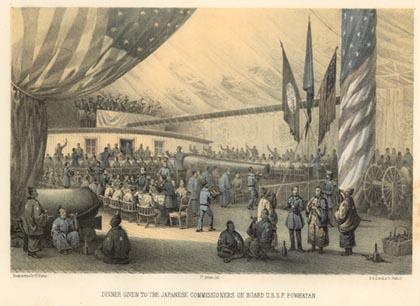 Click the picture for image
of complete lithograph
Commodore Perry entertained the Commissioners about the USSF Powhatan on March 27, 1854 after the conclusion of negotiations. The commissioners were taken on a tour of the ship and then treated to an exercise of fire power by howitzers aboard a smaller boat lowered from the Powhatan. It was noted that while they were "...not a very warlike people, (at least in modern history) the Japanese evidently had a great fondness for martial exercise and display."
In this lithograph we see Commodore Perry, the Commissioners and senior officials/officers from both sides toasting, eating and just generally having a great time. It was noted that "Hayashi, the grave prince, was the only one, in fact, whose sobriety was proof against the unrestrained conviviality which prevailed among his bacchanalian coadjutors." Sounds kind of like a modern day military dining-in.
I have recorded two types of this lithograph. I call this Type I. The two types have many figures with subtle differences. The most evident difference in the two types is in the titles/lettering. Type I has the additional lettering "Js. Queen del" in the center. This lettering is not found in Type II.
The titles/lettering read:
From nature by W. Heine
Js. Queen, del. (Type I only)
P.S. Duval & Co. Philda (Type I)
P.S. Duval & Co. Phila (Type II)
DINNER GIVEN TO THE JAPANESE COMMISSIONERS ON BOARD U.S.S.F. POWHATAN
Condition. Foxing/staining in right margin that enters into the image area.
Landscape Format
Page Size (cm): 28.7x22.5cm
Image Size (cm): Width-22.8, Height-15.3, Diagonal-27.5

<!/--Dimensions -->

Terms & Conditions.
Payment with Order. US Dollar Check or Money Order Payable by a Bank in the US or PayPal Payment.


Postage (US Postal Service) and Insurance: $6.00 within the US; $18.00 outside the US (Outside US at Buyer's risk of loss in mail). Additional postage applies when framesets are ordered or where shipment is to an address outside the US.


Discounts (Based on Order Filled): Over $500 - 10% Over $1,000 - 15% - Discounts do not apply to frame sets. They are priced net.


New Mexico sales (gross receipts) tax is due when applicable.