Wrestlers at Yokuhama
Type I, large format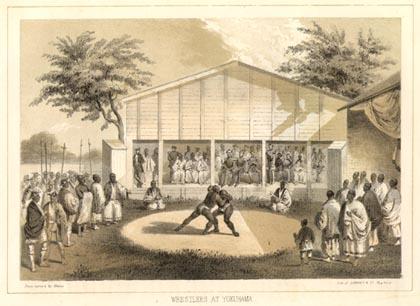 Click the picture for image
of complete lithograph
Once the treaty was concluded, the Japanese presented gifts to the US party and provided entertainment. This occurred on March 24, 1854. The Narrative notes:
While contemplating these substantial evidences of Japanese generosity, the attention of all was suddenly riveted upon a body of monstrous fellows, who tramped down the beach like so many huge elephants. ... They were some twenty-five in number, and were men enormously tall in stature, and immense in weight of flesh. ... Some two or three of these huge monsters were the most famous wrestlers in Japan.... Koyanagi, the reputed bully of the capital, was one of them, and paraded himself with the conscious pride of superior immensity and strength.
The Americans were treated to sumo wrestling by all twenty five wrestlers.

I have recorded two variations of this image. I call this one Type I. In Type I, the smaller figure at the left of the group of figures in the right foreground has his left hand raised but has no pole in it. In Type II, the figure has a pole in that hand. In Type I the inscription on the left reads "From Nature by Heine" (probably correct artist). In Type II the inscription reads "From Nature by Peters" (probably incorrect artist name). There are also minor design differences between the two types. To see the difference between Type I and II, click here.

The titles/lettering read:
From Nature by Heine


Lith of SARONY & Co. New York


WRESTLERS AT YOKUHAMA


Bottom edge (binding edge) is trimmed. Very very faint print foxing on face. Clean lithograph. Paper thickness is 8.5mm.
Landscape Format
Page Size (cm): 28.9x21.2cm
Image Size (cm): Width-23.5, Height-16.5, Diagonal-28.7

<!/--Dimensions -->

Terms & Conditions.
Payment with Order. US Dollar Check or Money Order Payable by a Bank in the US or PayPal Payment.


Postage (US Postal Service) and Insurance: $6.00 within the US; $18.00 outside the US (Outside US at Buyer's risk of loss in mail). Additional postage applies when framesets are ordered or where shipment is to an address outside the US.


Discounts (Based on Order Filled): Over $500 - 10% Over $1,000 - 15% - Discounts do not apply to frame sets. They are priced net.


New Mexico sales (gross receipts) tax is due when applicable.