View from Webster Isld (Type I) - Yedo Bay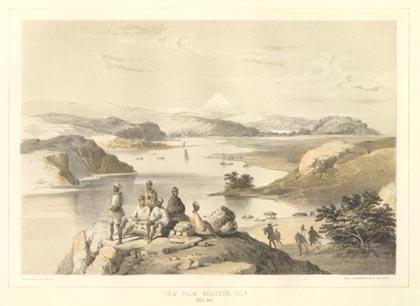 Click the picture for image
of complete lithograph
An American marine about the Mississippi died two days before the meeting with the commissioners. One of items of business at the meeting was a request by Commodore Perry that the United States buy a piece of land for the burial of the marine. The Commissioners stated the burial should be in Nagasaki. Perry objected and proposed a plot of land on Webster Island which was convenient to where his ships were anchored (the American Anchorage as they called it). The Commissioners declined the request but compromised by allowing the burial in a place adjoining a temple in Yokohoma. Commodore Perry agreed and the marine was buried in Yokohama.
A scouting party had been sent to Webster Island and this lithograph shows the view from the island. Mount Fuji is seen in the background.
This is Type I of this lithograph. To see the various types, click here.
The titles/lettering read:
From nature by Heine


Lith of Sarony & Co. New York


VIEW FROM WEBSTER ISLd YEDO BAY


Bottom edge (binding edge) is ragged.
Paper thickness is 9mm.
Landscape Format
Page Size (cm): 29.1x21.6cm
Image Size (cm): Width-24.1, Height-16.6, Diagonal-29.2

<!/--Dimensions -->

Terms & Conditions.
Payment with Order. US Dollar Check or Money Order Payable by a Bank in the US or PayPal Payment.


Postage (US Postal Service) and Insurance: $6.00 within the US; $18.00 outside the US (Outside US at Buyer's risk of loss in mail). Additional postage applies when framesets are ordered or where shipment is to an address outside the US.


Discounts (Based on Order Filled): Over $500 - 10% Over $1,000 - 15% - Discounts do not apply to frame sets. They are priced net.


New Mexico sales (gross receipts) tax is due when applicable.