Macao from Penha Hill (Type IA)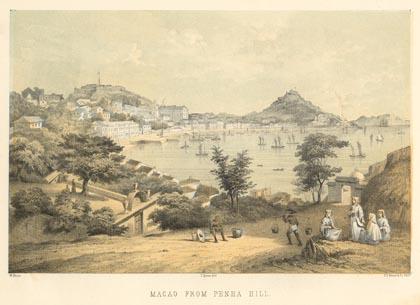 Click the picture for image
of complete lithograph
In August of 1853, Commodore Perry departed Lew Chew for China. The first stop was in Macao where he took a house for an extended stay. Perry noted that due to the shallow harbor, large merchant ships and Ships of War could not anchor in the Macao harbor. This had reduced Macao to a much less lucrative coastal trading port for the smaller ships.
In this lithograph you see the town and harbor of Macao. The scene looks down on Praia Grande Bay from Penha Hill. Chinese junks and smaller vessels fill the Bay while one larger ship sails at the far right. A city of colonial houses and churches rises in the distance. Macao was the center for Christian missionary activity in the Far East. A fortification with flag sits on the hill to the left; another building with flag sits on the hill across the Bay. Penha Hill was the site of the Chapel and Fortress of Our Lady of Penha and a Bishops Palace was added in 1835. Several nuns sit by the side of the road leading up the hill (at the far right). A tired laborer sits on his load in the middle of the road. You also see the Portuguese forts on the hills overlooking the harbor. Perry noted that the Portuguese still maintained a "...show of military possession...." over Macao.
This is one of the few lithographs from Volume I of the Narrative that does not have the box frame line.
The titles/lettering read:
W. Heine
J. Queen delt (Type IA only)
P.S. Duval & Co, Phila
MACAO FROM PENHA HILL
Condition. Light browning along ouside of margins. Foxing in the margins.
Landscape Format
Page Size (cm): 28.8x22.7cm
Image Size (cm): Width-22.8, Height-15, Diagonal-27.2

<!/--Dimensions -->

Terms & Conditions.
Payment with Order. US Dollar Check or Money Order Payable by a Bank in the US or PayPal Payment.


Postage (US Postal Service) and Insurance: $6.00 within the US; $18.00 outside the US (Outside US at Buyer's risk of loss in mail). Additional postage applies when framesets are ordered or where shipment is to an address outside the US.


Discounts (Based on Order Filled): Over $500 - 10% Over $1,000 - 15% - Discounts do not apply to frame sets. They are priced net.


New Mexico sales (gross receipts) tax is due when applicable.