Macao from Penha Hill (Type I)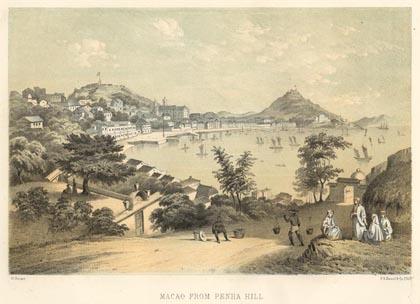 Click the picture for image
of complete lithograph
In August of 1853, Commodore Perry departed Lew Chew for China. The first stop was in Macao where he took a house for an extended stay. Perry noted that due to the shallow harbor, large merchant ships and Ships of War could not anchor in the Macao harbor. T his had reduced Macao to a much less lucrative coastal trading port for the smaller ships.
In this lithograph you see the town and harbor of Macao with the smaller ships at anchor. You also see the Portuguese forts on the hills overlooking the harbor. Perry noted that the Portuguese still maintained a "...show of military possession...." over Macao.
This is one of the few lithographs from Volume I of the Narrative that does not have the box frame line.
The titles/lettering read:
W. Heine
J. Queen delt (Type IA only)
P.S. Duval & Co, Phila
MACAO FROM PENHA HILL
Condition. Light browning along ouside of margins. Image area clean.
Landscape Format
Page Size (cm): 28.7x22.3cm
Image Size (cm): Width-22.5, Height-15.1, Diagonal-27.1

<!/--Dimensions -->
Attribution: This lithograph has been positively confirmed to be from the Beverley Tucker, Senate Printing (1856), of the Narrative.

Terms & Conditions.
Payment with Order. US Dollar Check or Money Order Payable by a Bank in the US or PayPal Payment.


Postage (US Postal Service) and Insurance: $6.00 within the US; $18.00 outside the US (Outside US at Buyer's risk of loss in mail). Additional postage applies when framesets are ordered or where shipment is to an address outside the US.


Discounts (Based on Order Filled): Over $500 - 10% Over $1,000 - 15% - Discounts do not apply to frame sets. They are priced net.


New Mexico sales (gross receipts) tax is due when applicable.