Inner Harbor and Ruins, Timagusko
#281 - Type I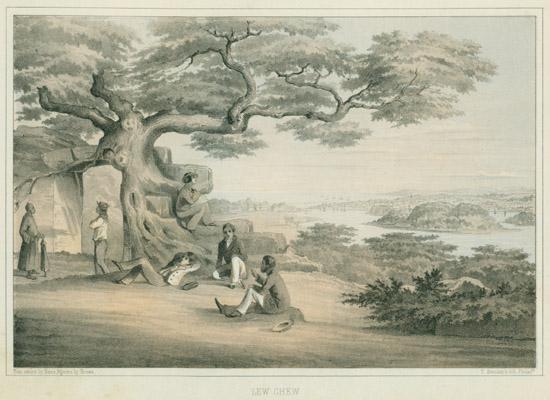 Click here for image
of complete lithograph
While this lithograph is indexed as "Inner Harbor and Ruins, Timagusko" it is titled only with Lew Chew. It shows some of the crew on a hill overlooking a harbor and the ruins of the Castle Timagusko. This castle was described as 4 miles southeast of Napha. One interesting aspect is the character under the tree. That appears to be the artist Heine at work with a sketch pad.
I have noted a several variations between individual lithographs with regard to the image on this lithograph. Thus far I have recorded three similar designs but with minor variations. Some have far more white than others. Often the number and arrangement of ships in the harbors varies. The Okinawan man to the far left is sometimes slightly different and the root on the wall just above him is arranged differently. Perhaps the Sinclair Co. lithograph plant had to redraw the lithograph stone more frequently that other companies found necessary.
I call this lithograph Type I. For pictures of the various types I have recorded, click here.
The titles read:
From Nature by Heine, Figures by Brown


T. Sinclair's lith, Philada


LEW CHEW


Bottom edge (binding edge) is ragged with pieces missing. Few toning spots but none in or adjacent to the image area.
Landscape Format
Page Size (cm): 29x22.7cm
Image Size (cm): Width-23.4, Height-15.7, Diagonal-28.2

<!/--Dimensions -->
Attribution: This lithograph has been positively confirmed to be from the Beverley Tucker, Senate Printing (1856), of the Narrative.

Terms & Conditions.
Payment with Order. US Dollar Check or Money Order Payable by a Bank in the US or PayPal Payment.


Postage (US Postal Service) and Insurance: $6.00 within the US; $18.00 outside the US (Outside US at Buyer's risk of loss in mail). Additional postage applies when framesets are ordered or where shipment is to an address outside the US.


Discounts (Based on Order Filled): Over $500 - 10% Over $1,000 - 15% - Discounts do not apply to frame sets. They are priced net.


New Mexico sales (gross receipts) tax is due when applicable.