To-ri-ga-sa-ki, Yedo Bay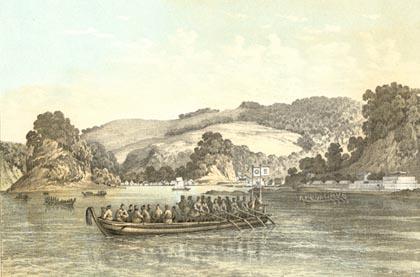 Click the picture for image
of complete lithograph
Instead of departing as the Japanese "hosts" desired, Commodore Perry moved the squadron approximately 10 miles up the the bay to an new anchorage that they designated the "American Anchorage" in their own honor. Needless to say, this unexpected turn of events caused serious concern with the host. They expected the Americans to leave, not move further inland. Again, Commodore Perry dispatched the unwelcome surveying parties. He did the same the next day, July 15. On the 16th the squadron began the outbound journey.
This lithograph shows a Japanese vessel "escorting" the squadron as it passes the village of Togirasaki on the way out of Yedo Bay.
The titles/lettering read:
W. Heine


J. Queen delt


P.S. Duval & Co Phil


TO-RI-GA-SA-KI, YEDO BAY


Landscape Format
Page Size (cm): Width-29, Height-21.9
Image Size (cm): Width-23.7, Height-16.1, Diagonal-28.6

<!/--Dimensions -->

Terms & Conditions.
Payment with Order. US Dollar Check or Money Order Payable by a Bank in the US or PayPal Payment.


Postage (US Postal Service) and Insurance: $6.00 within the US; $18.00 outside the US (Outside US at Buyer's risk of loss in mail). Additional postage applies when framesets are ordered or where shipment is to an address outside the US.


Discounts (Based on Order Filled): Over $500 - 10% Over $1,000 - 15% - Discounts do not apply to frame sets. They are priced net.


New Mexico sales (gross receipts) tax is due when applicable.