View of Uraga, Yedo Bay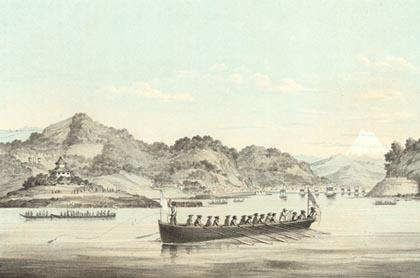 Click the picture for image
of complete lithograph
Commodore Perry departed Naha for Japan on July 2, 1853. He had planned on a squadron of twelve ships but only had four (Susquehanna, Mississippi, Saratoga and Plymouth). The squadron arrived off Uraga on the morning of July 8. A large fleet of twelve or so large Japanese boats set out toward them but was left behind by the squadron as it entered the inner bay of Uraga. The ships anchored at around five o'clock and as the weather cleared Mount Fusi (Fuji) was visible. Japanese boats came out to meet the ships but no one was permitted to board the US ships. A Japanese official delivered a directive to the US ships to depart but that was ignored.
On 11 July small boats were dispatched from each US ship to survey the harbor. This is what this lithograph depicts. You see Mount Fuji in the right background.
The Governor of Uraga advised Commodore Perry that this activity was against Japanese law. The surveying continued and the Commodore responded that American law required the surveying and he was bound to comply with American law. So much for friendly host nation relations. It was clear that Commodore Perry intended to operate from a position of predominant power and authority, even if he did not have the large squadron he wanted.
The titles/lettering read:
W. Heine


T. Sinclair's Lith Philada


VIEW OF URAGA, YEDO BAY


A similar scene is depicted in a lithograph published by E. Brown in 1855 title "Passing the Rubicon." For more information on that item, click here.
Condition. Bottom edge (binding edge) is cut unevely. Only minor foxing. There is a 7 cm tear in the middle of the top margin.
Landscape Format
Page Size (cm): 28x21.6cm
Image Size (cm): Width-23.5, Height-16, Diagonal-28.5

Terms & Conditions.
Payment with Order. US Dollar Check or Money Order Payable by a Bank in the US or PayPal Payment.


Postage (US Postal Service) and Insurance: $6.00 within the US; $18.00 outside the US (Outside US at Buyer's risk of loss in mail). Additional postage applies when framesets are ordered or where shipment is to an address outside the US.


Discounts (Based on Order Filled): Over $500 - 10% Over $1,000 - 15% - Discounts do not apply to frame sets. They are priced net.


New Mexico sales (gross receipts) tax is due when applicable.