Afternoon Gossip Lew Chew (Type I)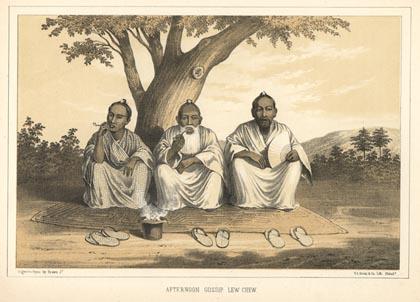 Click here for image
of complete lithograph
According to the Narrative "...the men were the drones of the hive, and the women the workers." These three "drones" were observed sitting in the shade passing the time smoking their pipes, sipping tea and "gossipping." According to the Narrative, once they had their fill of smoking and drinking tea they broke out the Saki and it was passed around, "...sometimes beyond the limits of prudence and discretion." Meanwhile, "... the poor women, ... might be seen, half naked, delving with the hoe or spade, in the adjacent gardens under the scorching sun." Quite a picture.
The titles read:
Daguerretypes by Brown Jr


PS Duval & Co. Lith Philada


AFTERNOON GOSSIP LEW CHEW


Condition. Very light soiling in borders. U/L corner small chip. Image canted up at the right
I have recorded several minor varieties of the picture in this lithograph. I call this one Type I. To see the differences, click here.
Landscape Format
Page Size (cm): 29.2x22.5cm
Image Size (cm): Width-23.8, Height-16.1, Diagonal-28.8

<!/--Dimensions -->

Terms & Conditions.
Payment with Order. US Dollar Check or Money Order Payable by a Bank in the US or PayPal Payment.


Postage (US Postal Service) and Insurance: $8.00 within the US; $34.00 outside the US (Insured Priority Mail).


Discounts (Based on Order Filled): Over $500 - 10% Over $1,000 - 15% - Discounts do not apply to frame sets. They are priced net.


New Mexico sales (gross receipts) tax is due when applicable.