Dinner at the Regents Lew Chew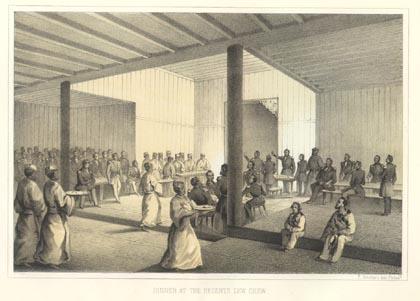 Click the picture for image
of complete lithograph
After the Reception at Shuri Castle the official parties from both side retired to the Regent's¹ state apartment a very short distance from the castle. There they were served a dozen course meal and consumed many "little cups" of sake. In all, the party had been gone from the ships for five hours. Since approximately only one-half an hour was spent in the formal reception, the meal and entertaint must have been very agreeable to the American party.
The titles/lettering read:
T. Sinclair's Lith, Philada


DINNER AT THE REGENTS LEW CHEW


Small (5cm) tear in right margin. Very clean.
Landscape Format
Page Size (cm): Width-28.9, Height-21.7
Image Size (cm): Width-23.4, Height-15.7, Diagonal-28.2
<!/--Dimensions -->
1a. In a footnote regarding this section of the Narrative of the Expedition published by the Smithsonian Institution Press in 1968, the editor notes:
50. The Regent (sessei or kokusho) of Lew Chew throughout the time of Perry's visits was Sho Jun, of royal blood, who occupied the position from 1852 to 1860, under close scrutiny of the Satsuma clan, who had inspectors stationed there. To prevent his possible blundering in negotiations with foreigners, the regent's advisers (upon suggestion of the Satsuma inspectors) kept him hidden and created a foreign affairs position entitled tsung-li kwan or sorikan (literally a superintendent) who was presented to Perry as their highest ranking official. Thus when Perry speaks of the 'regent' he is referring only to a tsung-li or sorikan and he never did see the real regent.
1b. The previous discussion (1a, above) is contradicted by Seisho Hokama, a Professor of English at the University of Ryukyus, in his book Commodore Perry's Visit to Okinawa., 1962. Professor Hokama concluded that Perry met two different regents. The first was Shang Ta-mu, "a venerable old man." <!hokama-p24> Perry met this "Regent" in his first visit to Lew Chew which started in May of 1853. When he returned in June of 1854 the "Regent" was a much younger man, Shang Hung Hiun.<!homaka-p217> Perhaps Professor Hokama's account explains why there are two different lithographs of the Regent of Lew Chew that seem to show different men. In the Narrative, the second Regent is described as a "much younger man" "about forty-five years old."

Terms & Conditions.
Payment with Order. US Dollar Check or Money Order Payable by a Bank in the US or PayPal Payment.


Postage (US Postal Service) and Insurance: $6.00 within the US; $18.00 outside the US (Outside US at Buyer's risk of loss in mail). Additional postage applies when framesets are ordered or where shipment is to an address outside the US.


Discounts (Based on Order Filled): Over $500 - 10% Over $1,000 - 15% - Discounts do not apply to frame sets. They are priced net.


New Mexico sales (gross receipts) tax is due when applicable.