~~ Book 1859040303 ~~

Volume 1
Two Journeys to Japan (1856-7)
Covers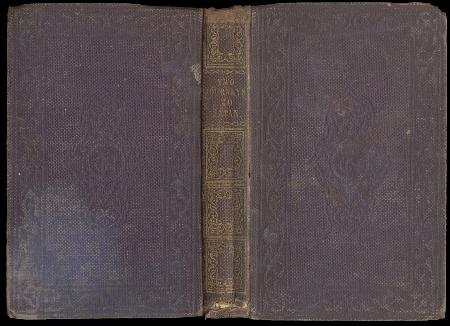 Click here for larger picture.

Condition. The book is in Poor condition. Binding is worn and frayed, particularly at the foot of the spine. The gilt on the spine faded. The title page and frontispiece lithograph are missing. Only three ("A Street in Simoda," "The Governor of Hakodadi" and "Theatricals at Nagasaki") of other five lithographs present. In other words, the book has three of the six lithographs. Hospital bookplate inside front cover. Hinges are broken but holding. Text is complete (except for three missing illustrations) and clean with very little staining or foxing. The three illustrations are clean. An excellent reading copy with extra value added by the three lithographic plates.

Cornwallis, Kinahan:
Two Journeys to Japan, 1856-7, London, Thomas Cautley Newby, 1859, 12mo (5 x 8 in - 13.2 x 20.3 cm), blind stamp cloth with gilt on spine, Volume I only, volume number at foot of spine, hand colored frontispiece (missing in this book), one hand colored plate (present in this book) and four (two present in this book) tinted lithographs, 340 pp. Many of the plates in the set appear to have been patterned after images in the US Government published narrative of the Perry Expedition to Japan published a few years earlier.

Illustrations per directions to the binder in Volume I
Volume I
Ladies witnessing the Theatricals at Nagasaki* - to Face Title Page. (Missing)

Scene off Simoda - page 24. (Missing)

A Street in Simoda - Page 82.


The Governor of Hakodadi and suite while witnessing the wrestling match - Page 166.


A Japanese Funeral Procession, Nagasaki - Page 252.

Theatricals at Nagasaki* - Page 275.


* Frontispieces and Theatricals at Nagasaki are hand colored lithographs
Other 5 plates are tinted lithographs. Plate/page size is 4 1/2 x 7 1/2 in - 12 x 19.2 cm.


Volume I covers "Journey the First" in chapters 1-7 (pages 1-198) and "Journey the Second" in chapters 8-15 (pages 199-340). The second journey starts in early August, 1857, and includes an extensive account of a visit to Okinawa (Lew-Kew) at pages 203~233. Cornwallis stated the following regarding Okinawa:

The island struck me as being one of the most beautiful I had ever trodden, and scenery the most varied within so prescribed a compass. (page 207).

At this point Cornwallis was traveling aboard an unnamed "American steam-frigate."


For information on the complete two volume set, click here.