Bridge & Causeway at
Ma-Chi-Na-Too, Lew Chew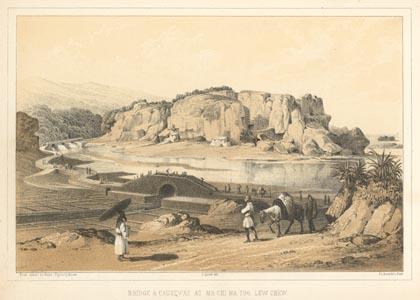 Click the picture for image
of complete lithograph
This lithograph depicts stone bridges in "Machinatoo." US personnel stationed on Okinawa will probably quickly recognize the general area depicted in this lithograph. The bluff in the background was a landmark as you drove down Highway 1 (58) toward the Machinato (Makimenato) Service Area.
The titles/lettering read:
From nature by Heine, Figures by Brown


J. Queen delt


P.S. Duval & Co. Phila


BRIDGE & CAUSEWAY AT MA-CHI-NA-TOO, LEW CHEW


Clean lithograph.
Landscape Format
Page Size (cm): 29.2x22.5cm
Image Size (cm): Width-24, Height-16.2, Diagonal-28.9

<!/--Dimensions -->

Terms & Conditions.
Payment with Order. US Dollar Check or Money Order Payable by a Bank in the US or PayPal Payment.


Postage (US Postal Service) and Insurance: $6.00 within the US; $18.00 outside the US (Outside US at Buyer's risk of loss in mail). Additional postage applies when framesets are ordered or where shipment is to an address outside the US.


Discounts (Based on Order Filled): Over $500 - 10% Over $1,000 - 15% - Discounts do not apply to frame sets. They are priced net.


New Mexico sales (gross receipts) tax is due when applicable.