Valley of the Tomb, Near Longwood (Type I)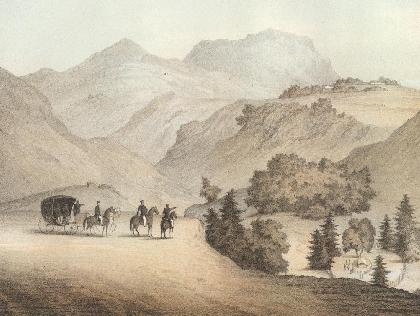 Click the picture for image
of complete lithograph
Perry arrived at St Helena on January 10, 1853. Napoleon was exiled to Longwood on St Helena and spent 5 years (not quite but close) there before his death on the 1st of May, 1821. The crew visited the house where Napoleon was imprisoned in Longwood. They also visited the tomb where his ashes were interred until October of 1840 when they were returned to France. In this lithograph, the tomb is in the right foreground. A winding footpath leads the visitor to Napoleon's tomb which is surrounded by railings topped by spear-heads. The tomb area is surrounded by several trees, among which are 12 Cypress trees planted in 1840 in memory of Napoleon's twelve great victories.
The titles/lettering read:
From nature by Heine, Figures by Brown.


T.S. Sinclair Lith, Philada.
(Type I)

T.S. Sinclair Lith. Phila.
(Type II)

VALLEY OF THE TOMB, NEAR LONGWOOD
(Type I)

VALLEY OF THE TOMB NEAR LONGWOOD
(Type II)

Bottom edge (binding edge) is ragged. Very very faint print foxing on face. Nicked upper right corner.
I have noted two type of this lithograph. I call this one Type I. To see the differences, click here. This lithograph (Type I and Type II) has two framelines (boxes). An outer frameline box and an inner one which is on the image area
Paper thickness is 8+mm.
Landscape Format
Page Size (cm): 28.7x22.6cm
Image Size (cm): Width-22.7, Height-15.2, Diagonal-27.2

<!/--Dimensions -->
Attribution: This lithograph has been positively confirmed to be from the Beverley Tucker, Senate Printing (1856), of the Narrative.

Terms & Conditions.
Payment with Order. US Dollar Check or Money Order Payable by a Bank in the US or PayPal Payment.


Postage (US Postal Service) and Insurance: $6.00 within the US; $18.00 outside the US (Outside US at Buyer's risk of loss in mail). Additional postage applies when framesets are ordered or where shipment is to an address outside the US.


Discounts (Based on Order Filled): Over $500 - 10% Over $1,000 - 15% - Discounts do not apply to frame sets. They are priced net.


New Mexico sales (gross receipts) tax is due when applicable.