Commodore Perry's Personal
Journal of the Expedition to Japan

Perry, Commodore M. C.,
Morison, Samuel Eliot, introduction
Pineau, Roger, editor:
The Japan Expedition 1852-1854. The Personal Journal of Commodore Matthew C. Perry. This one volume work was published by Smithsonian Institution Press, Washington, DC, in 1968. The book contains 30 black & white illustrations and 49 color plates. It measures 8 1/2 x 11 1/4 inches (21½cm x 28½cm) and is 241 pages long. Perry's journal was incorporated into the official Narrative of the expedition. However, certain personal matters were omitted and numerous drawings were not made a part of the official Narrative. These are contained in this book. The book also has an appendix with President Filmore's letter to the Emperor of Japan (Appendix A) and the reply to the letter. You also find a list of the ships of the expedition (Appendix B) and the Officers and Chief Petty Officers (Appendix C).
There are four important Heine lithographs in this book that you do see reproduced in the Narrative of the expedition. Theres are:
1. Commodore Perry and troops returning from visit to Shuri Castle, 6 June 1853.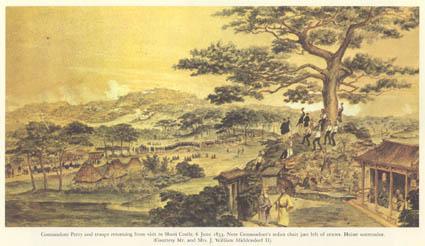 Two scenes in this lithograph were transferred into lithographs that are in the Narrative of the expedition. These are the two scenes:


See Narrative lithograph 226, Lew Chew Costumes.



See Narrative lithograph 219, Afternoon Gossip




2. Passing the Rubicon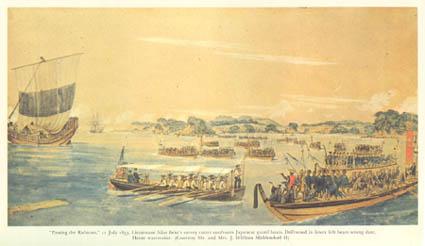 3. Commodore Perry comes ashore in Japan for the first time, 14 July 1853, Kurihama.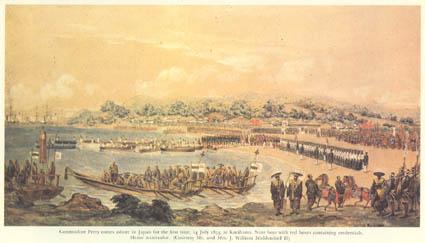 4. Landing of Commodore Perry at Yokohama, 8 March 1854, to meet the Imperial Commissioners.