A Precursor of Perry or
The Story of Takano Nagahide
by Herbert H. Gowen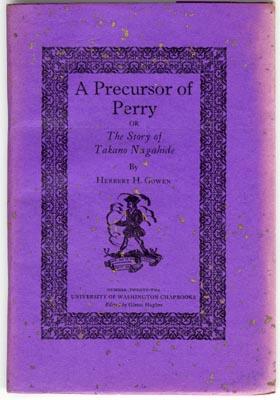 Gowen, Herbert H.
Hughes, Glenn:
A Precursor of Perry or The story of Takano Nagahide, Seattle, University of Washington, 1928. Issue Number Twenty-Two in the University of Washington Chapbook series, large 12mo (5 x 7 1/2 in), blue printed wrappers attached at the spin to stiff cardboard type covers, untrimmed right and bottom edge, many top pages never severed, 45 pp. This is the story of the life of Takano Nagahide (June, 1804 - October, 1850). Nagahide became friends with the famous Dutch physician, Siebold, who was with the Dutch community at Deshima. At a time when foreigners were generally excluded from Japan, Nagahide openly wrote stories advocating opening Japan to foreign influence. The book does not state when his imprisonment started but by January, 1842, Nagahide was in prison for his views. In 1845, because of a fire in the prison, he was released for three days and he then began evading authorities until he killed himself on October 29, 1850 while Japanese police were attempting to arrest him. The book was originally distributed in a glassine holder closed with a seal with the Chapbook series logo. The book is generally found in Good condition or less. I suppose this is due to it's small size and thin wraps.
New Issue - Original Glassine