== Book 1878030828 ==
Life and Adventure in Japan
by Warren Clark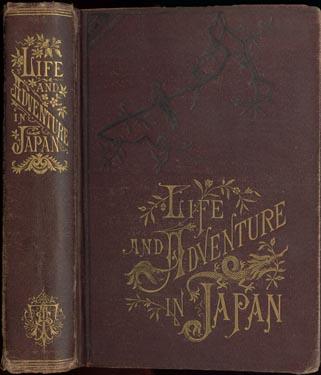 Condition. The book is in Good condition. Head and foot of spine are frayed. Edges along spine have splitting at head and foot. Corners lightly bumped. Front end page has 1879 owner's inscription. Internally lightly shaken but holding. Pages are very clean and free of foxing and staining.

Clark, E. Warren:
Life and Adventure in Japan, New York, American Tract Society, 1878, engraved frontispiece, map of Japan, 30 black and white illustrations ("From Original Photographs"), brown decorative cloth with gilt lettering/designs, 18mo (4 3/4 x 6 3/4 in) 247 pages. The book discusses the author's journey through Japan during his stay from 1871-1875. Full chapter discussion of the role of the christian missionary in Japan. The book is written for the young reader.

Chapters:
Chap. I. First Sight of Japan
Chap. II. A Journey on the Tokaido
Chap. III. Life in a Buddhist Temple
Chap. IV. Life in a Feudal Castle
Chap. V. Excursions and Comical Experiences
Chap. VI. The Ascent of Fuji-Yama
Chap. VII. Removal to Tokio
Chap. VIII. Rambles about the Capital
Chap. IX. A Peep into the Mikado's Palace
Chap. X. A Trip to Kioto
Chap. XI. The Missionary Outlook
Chap. XII. Farewell to Japan