~~ Book 1956120809-7 ~~
Okinawa Post Script, Vol 1
Blackie the Photographer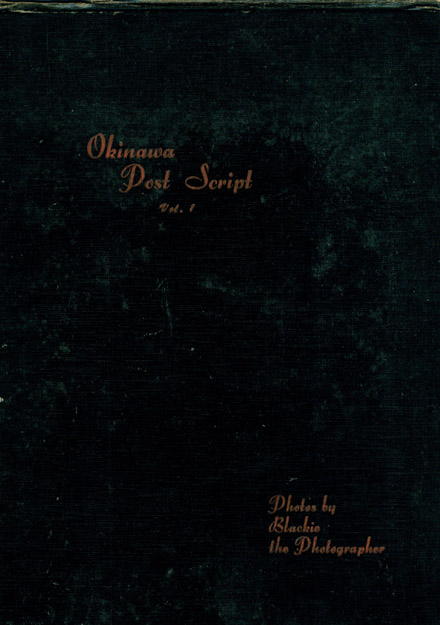 Condition. The book is in Very Good condition. There is an undated pen and ink inscription signed by "Blackie the Photographer" on the preface page. There is spotting on the pages at the front and rear (approximately 4 pages in total). The photograph pages are clean and free of spotting, toning or staining. The covers have a light bow and edges are scraped in spots. There is a 1 inch broken area at the foot of the spine. The binding is solid and this is unusual for this book which is generally found shaken or with the text block actually broken away from the cover. A much better than average copy of this book.
Blackie Inscription on Preface Page.


Blackie the Photographer:
Okinawa Post Script, Vol 1, Okinawa, ca 1956, Star News Publishing Co, Ltd, black cloth covers with gilt lettering on front cover, 8vo (7 1/4 x 10 1/4 in), unpaginated, 101 pp. The book does not have a title page or copyright notice. It has a preface by Blackie the Photographer. This is followed by 101 halftone black and white photographs on printed front and back on 7 x 10 inch pages. The image area of the photographs is generally 4 1/2 x 6 1/2 inches and the photograph is surrounded by an ornamental border. Only one photograph per page and each photograph has a descriptive title followed by 2-3 sentences of background information. Blackie captures all aspects of Okinawan life from birth to death. Several of the photographs have a Christian theme and depict church activities. A wonderful photo-essay of life on Okinawa from 1945 to the mid-1950s. The only way I could date the book was from a photograph with a 1956 car. That photograph tends to establish the date of publication as approximately 1956. The binding on this book is very weak. The pages are attached at the top (short edge of the book). They invariably come loose and are found shaken or even loose in sections. This is the norm for this book.

For more information on Blackie the Photographer books, click here.

Preface Reads:

Views from the cradle to the grave, by Blackie the Photographer, give the viewer a clear, concise, pictorial view of scenes that will be long remembered by all Americans who have been stationed on the Keystone of the Pacific.


Blackie the Photographer
Box 62
Koza, Okinawa
Ryukyu Islands
---
Title for Each Photograph (format of photograph) [Summary of Image]
Okinawan Baby (horizontal format)

Okinawan Baby (vertical format)

Field Day on Okinawa (vertical format)

Okinawan Baby Sitter (vertical format)

My Sister and I -- Okinawa (vertical format)

Booya (Little Okinawan Boy) (vertical format)

Little Girls Will be Girls Even on Okinawa (horizontal format)

Good Morning Nee-san (vertical format)

The Opera on Okinawa (vertical format)

Tea House August Moon -- Okinawa (horizontal format) [Ouside of Building]

Tea House August Moon, Naha, Okinawa (horizontal format) [Dancers]

The Theatre (Okinawa) (horizontal format)

Bullfighting on Okianwa (horizontal format) [Two Bulls Fighting]

Sumo Wrestling on Okinawa (vertical format)

Tug of War -- Okinawa (horizontal format)

Party Time on Okinawa (horizontal format) [Men Playing Samisens]

"Go" Yes, That is its Name! (horizontal format)

Pachinko (Okinawan Version of the Slot Machine (vertical format)

Oriental Version of Sandwich Man (vertical format)

Miss Okinawa (vertical format)

An Okinawan Miss (vertical format)

Ladies' Dressing Room -- Okinawa (horizontal format)

Okinawan Night Clubs (horizontal format) [Floor Show with Dancing Girls]

Odoriko (Okinawan Dancing Girl) (vertical format)

Ship Travel (horizontal format) [Exterior of RKK Line Ship]

Ship Travel -- Okinawa (horizontal format) [Passenger Accomodations on a Ship]

American Church -- Okinawa (vertical format) [Leper Colony Church at Yagaji-Shima]

Loneliness -- Okinawa (vertical format) [Lady Walking on Beach]

Protestant Church Service on Okinawa (horizontal format)

Youth for Christ, Okinawan Mission (vertical format) [Children Praying]

Youth for Christ on Okinawa (horizontal format) [Grass Hut, Children, Serviceman Evangelist]

The Last Mile Home -- Okinawa (horizontal format) [Road with Coral Fence]

Tattooed Hands (vertical format)

Obaa-San -- Okinawa (vertical format)

Kodomo-san (Okinawan Small Boy) (vertical format)

Okinawan Children (horizontal format)

School Bus (horizontal format) [Tri-Wheel Bus Loaded with Children]

Down by the Ole Swimmin' Hole (horizontal format)

Okinawan Kindergarten Children (vertical format)

Papa-san, Takusan Puppies! This One Joto! (horizontal format) [Child Holding Puppy]

Marbles -- The Sport of All Children All Over the World (horizontal format)

Swinging - Okinawa Style (vertical format)

School Days (horizontal format) [Children on Beach]

Airin-en Orphanage (horizontal format) [Yonabaru, Children in Front of a Sign "Airin-en Children's Home, Christian Children's Fund, Inc"]

Oji-San (Grandfather) and Mago-san (Granddaughter) (vertical format)

Home Sweet Home (Okinawa Style (horizontal format) [Grass House wtih Thatched Roof]

Better Class Okinawan Home (horizontal format) [Wood and Tile Roof House]

Chow -- Okinawa (horizontal format) [Man and Woman Eating]

Typhoon Damage -- Okinawa (horizontal format) [Children at Play in Blown Down Building]

Wutu Ishi (Divorce Rock) -- Okinawa (vertical format)

Election Day on Okinawa (horizontal format) [Street Scene - 1956 Ford Crown Victory and 1956/7 Plymouth Visible]

Naha -- Okinawa (horizontal format) [Street Scene - Appears to be Koksi-Dori]

Okinawan Bride (vertical format) [Lady in Formal Kimono and Hat]

Dressed Up Today -- Okinawa (vertical format) [Lady and two Children in Kimonos]

Woman's Work is Never Done -- Okinawa (vertical format) [Mama-san with Basket of Sweet Potatoes on Her Head and Child on Her Back]

Wash Day on Okinawa (vertical format) [Women Washing Clothes in River]

Wood Carriers (horizontal format) [Young Ladies Carrying Wood in Baskets on Their Backs]

Sweet Potato Digging (vertical format) [Lady with Child on Her Back Cultivating Sweet Potatoes]

The Kitchen and a Pot of Tea (horizontal format) [Lady Making Tea on Kitchen Fire]

Homeward Bound (horizontal format) [Ladies Carrying Vegetables in Baskets on Their Backs]

Rice Culture -- Okinawa (horizontal format) [Man with House Plowing Rice Patty]

Okinawa Rice Belt (horizontal format) [Rice Farmers in Patty]

Rice Thrashing -- Okinawa (horizontal format)

Beans -- Okinawa (horizontal format) [Woman "Winnowing" Soy Beans with Children Watching]

Winnowing Rice on Okinawa (vertical format)

Rice Polishing -- Okinawa (vertical format)

Rice for Sale -- Okinawa (vertical format)

Panama Hats from Okinawa (horizontal format) [Older Women Making Hats]

Apples, Oranges, Bananas, Grapes -- Okinawa (horizontal format) [Produce Store]

Early Morning Market (horizontal format)

Soup to Nuts (horizontal format) [Market Scene in City]

Okinawan Shoe Store (horizontal format)

To the Fields We Go (horizontal format) [Horse Drawn Cart with Man, Lady & Child

Farming -- Okinawa (horizontal format) [Man with Shovel, Lady Dropping Seeds]

Okinawa Farmer (vertical format) [Older Smiling Man in Field]

Okinawa Farmer (horizontal format) [Man with Pole Across Sholder with Full Baskets on Each End]

Cattle (horizontal format) [Papa-san with Cow]

Typesetting (vertical format) [Printers Setting Type]

Pastry Shop (horizontal format)

Wood Carver (horizontal format)

Sugar Making (vertical format)

Tatami Factory (horizontal format)

Cotton Candy (horizontal format) [Children with Cotton Candy Vendor]

Salt of Okianwa (horizontal format) [Man Washing Sand to Get Brime to Make Salt]

Glass Blowers (horizontal format)

"This Little Pig is Going to Market" (vertical format) [Man with Pig Tied to back of Bicycle]

Amusing Signs Seen on Okinawa (horizontal format) [Sign Reads "Ice Plunt']

Fishing Canoe (horizontal format)

Man of the Sea (vertical format) [Solitary Fisherman in Boat at Sea]

Community Stage -- Okinawa (horizontal format) [Theatrical Acts (Children) on Makeshift Stage]

Lion Dance -- Okianwa (horizontal format) [One of the Few Pictures with American Servicemen - Spectators Watching Lion Dance]

Village Dancers (horizontal format)

Harvest Celebration on Okinawa (horizontal format)

Child Actor of Okinawa (vertical format)

Papa-San's Day is Done (vertical format) [Picture appeared in October, 1945 National Geographic]

Obaa-San (Gramdmothers) on Okinawa (vertical format) [Older Ladies and Grass Houses]

Okinawan Shrines (vertical format)

Repository for Human Ashes (horizontal format)

Cave of the Virgins (horizontal format)

Tombs (horizontal format)

Burial Urns (vertical format)
---
Illustrative Photographs